Estimated reading time: 11 minutes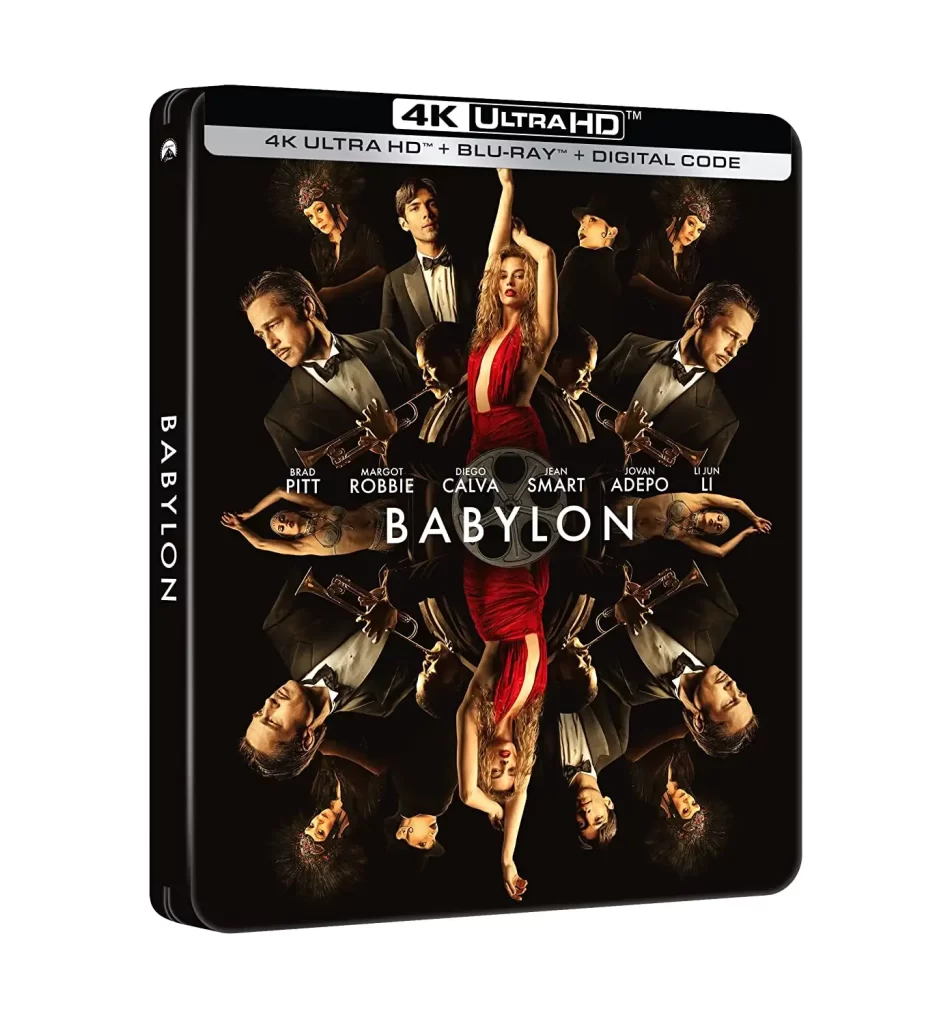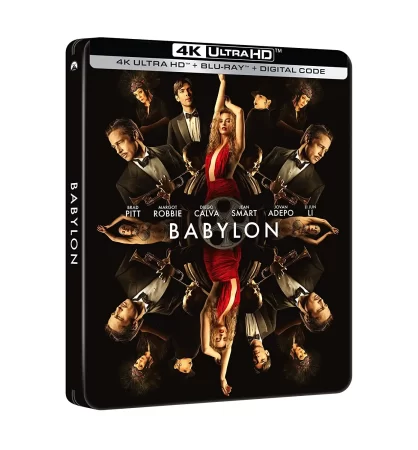 With films like La La Land, First Man, and Whiplash under his belt, Oscar-winning screenwriter/director Damien Chazelle turns his sights on the early excesses and tumult of early Hollywood in the 1920s with Babylon.
The film opens with Manny Torres (Diego Calva) delivering an elephant to the scene of bacchanalia at a mysterious Gatsby-like figure's mansion where anybody who is anybody desperately wants to be. Silent film star Jack Conrad (Brad Pitt) arrives having just broken up with his wife outside the party. Hollywood hopeful Nellie LaRoy (Margot Robbie) shows up in a stunning red dress trying to make her way in even though she is not on the guest list, and the rollicking jazz music is being played by a band led by Black trumpeter Sidney Palmer (Jovan Adepo). A young woman overdoses on drugs, a coverup ensues, and Lady Fay (Li Jun Li), an amalgamation of Anna May Wong and Marlene Dietrich, puts on a risqué performance dressed in male drag about "her favorite pet."
The people at this party will all go on to various levels of success during the heyday of silent films. Nellie will get her shot when she is chosen to replace the woman who overdosed at the party. Her sexually suggestive, wild performances will have her nicknamed "The Wild Child." Manny becomes an assistant to Jack Conrad and eventually works his way up to producer at Kinoscope Pictures, and Sidney is brought on to do "race pictures" targeted at Black audiences.
But all is not well. By 1927, when talkies hit with Al Jolson's The Jazz Singer, silent film stars struggle to transition, new moral codes start to stymie the performers. Lady Fay is let go when it becomes clear that she and Nellie are in a lesbian relationship; her skills writing title cards are also no longer needed. Jack's first major talkie is pilloried over its terrible dialogue, and Nellie's drug use and New Jersey accent catch up to her. Meanwhile, Manny, who was not only in love with Nellie but pinning a big part of his success on rebranding her as a classy actress for new audiences is ruined when she builds up unpayable gambling debts.
Like Cinema Paradiso and The Artist, Babylon is a love letter to Hollywood's past. This one being an ode to the rough and tumble early years and the Golden Years, with references to some of the key moments and blockbusters, like Singin' in the Rain. There is a collage that ends the film that evokes Giuseppe Tornatore's Cinema Paradiso's style, so we have not just references to the distant past, but the more contemporary past looking back at the past; it is very meta.
The performances are all fantastic, other than a weird and creepy appearance by Tobey Maguire in a subplot involving a dungeon, S&M, and a carnival geek that is completely out of place and an unnecessary means to push forward the eventual direction of the plot.
Overall, Babylon stays true to Chazelle's visual style while being a sprawling and epic if sometimes self-indulgent exploration of the Wild West era of Hollywood. Even with its unwieldy run time, it manages to go by briskly.
Brad Pitt in Babylon (2022)

Jovan Adepo in Babylon (2022)

Diego Calva in Babylon (2022)

Li Jun Li in Babylon (2022)

Tobey Maguire in Babylon (2022)

Brad Pitt in Babylon (2022)

Diego Calva and jean Smart in Babylon (2022)

Damien Chazelle on the set of Babylon (2022)

Margot Robbie in Babylon (2022)

Margot Robbie in Babylon (2022)

Babylon (2022)

Babylon (2022)

Babylon (2022)

Babylon (2022)

Babylon (2022)

Babylon (2022)

Babylon (2022)

Babylon 4K SteelBook (Paramount)

Babylon 4K SteelBook (Paramount)
The Video
Babylon was shot on 35mm Kodak Vision3 50D 5203, Vision3 250D 5207, Vision3 200T 5213, Vision3 500T 5219, and Eastman Double-X 5222 film stock on the Arricam LT with Atlas Orion and Angenieux HR lenses and Arriflex 435 with Zeiss Super Speed and Bell & Howell 2709 lenses in the anamorphic format. It uses a 4K digital intermediate and arrives on 4K Ultra HD Blu-ray in a 2.39:1 HEVC 2160p Dolby Vision encodement.
Although the bitrate for this rarely gets above 58 or 59Mbps, the transfer looks great and very filmic. The grain is natural and free from noise, yielding lots of textural information in the luxuriant sets and lavish costume designs. The Dolby Vision grading provides some mild 'pop' in specular highlights, but nothing too gimmicky. It fits with the overall retro-stylized look of the film. Lamps have a warm, amber glow and standout against deep inky shadows, for instance. Robbie's red dress in the opening act is a deep vermillion while on the Blu-ray it does not hit as deeply red. If there is an issue with the transfer, it is the slight black crush that can crop up. It is not enough to wipe out the detail in shadows and on darker clothing, but it is enough to keep this from attaining a perfect score.
The Audio
Babylon's English Dolby Atmos mix is one of the better mixes you will hear. It is not necessarily aggressive in placing solid effects in the height channels and using plenty of motion, but it is very spacious, dynamic, and atmospheric. The height awareness is strong, especially in party scenes where the jazz band and partygoers fill the soundstage. Low end is big when need be, like the "boom-da-boom" of the drums or the explosions in the scenes of on-location filming of battle sequences.
The Supplements
The special features are provided on a second bonus Blu-ray Disc, with the 30-minute 'making of' documentary anchoring the inclusions. Everything else are very brief featurettes on the production and some 9-minutes of extended and deleted scenes that do not bring much more.
Special Features Blu-ray:
A Panoramic Canvas Called Babylon (1080p; 00:30:50)
The Costumes of Babylon (1080p; 00:02:51)
Scoring Babylon (1080p; 00:01:50)
Deleted and Extended Scenes (1080p; 00:09:15):

Manny Drives Jack – Deleted
Elinor Chats with Extra – Extended
Cutting Room – Deleted
Dressing Room Fight – Deleted
Powder Room – Extended
Passport Search — Deleted
The Final Assessment
A sprawling paean to the indulgent early days of Hollywood that is visually lavish and filled with superb performances. The 4K Ultra HD disc from Paramount is a release that will stun in your home theater. Recommended.
---
Babylon 4K SteelBook is out March 21, 2023, from Paramount.
---
Rating Certificate: R (for strong and crude sexual content, graphic nudity, bloody violence, drug use, and pervasive language.)
Studios & Distributors: Paramount Pictures | C2 Motion Picture Group | Marc Platt Productions | Material Pictures | Organism Pictures | Wild Chickens Productions | Paramount+ | Paramount Pictures Home Entertainment
Director: Damien Chazelle
Written By: Damien Chazelle
Run Time: 188 Mins.
Street Date: 21 March 2023
Aspect Ratio: 2.39:1
Video Format: HEVC 2160p (4K UHD)
HDR Format: Dolby Vision (HDR10 Compatible)
HDR10 Metadata:

MaxLL: 2755 nits
MaxFALL: 400 nits

Primary Audio: English Dolby Atmos (Dolby TrueHD 7.1 Compatible)
Secondary Audio: English Audio Description | Spanish (Latino) DD 5.1 | French (Canadian) DD 5.1
Subtitles: English | English SDH | Cantonese | Danish | Spanish (Latino) | French (Canadian) | Korean | Mandarin | Norwegian | Finnish | Swedish | Thai