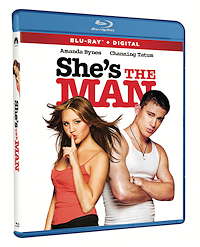 It's hard to believe that She's the Man is celebrating its 15th anniversary. Hard to believe not because it feels like it wasn't released that long ago, but because it seems more like a film that came out of the 1990s rather than the aughts given its comedic style. It definitely feels related to films like Clueless (1995) or 10 Things I Hate About You (1995), perhaps owing to its supposed neo-Shakespearean reworking of the Bard's work, in this case Twelfth Night.
Don't get your hopes up though. This 2006 rom-com basically takes some names and a very basic setup from the Shakespeare play and reworks it into a story rife with gender stereotypes and heteronormative clichés. Viola (Amanda Bynes) goes to school disguised as her twin brother Sebastian (James Kirk) in order to get on the boys' soccer team, which she manages to do, breast bound, fake deep voice and all. Not only does she help elevate their game, but she falls for the team's hot forward Duke (Channing Tatum).
A lot of these setups could have been ripe ground for discussion about the meaning of gender, sexuality, sex, and gender equality. Instead, we get a lot of slapstick, dumb jokes, and bad costumes, and the perpetuation of the notion that people can just change their genders at will when they want to just to make it onto a sports team and switch it off when they find a guy (or girl) they like.
There are some laughs here, but ultimately this film falls flat and it fell flat in 2006.


The Video
She's the Man arrives on Blu-ray in an AVC 1080p encodement framed at 1.85:1 that has the same look of many of the recent John Hughes films released by Paramount, that is to say, it doesn't look spectacular, but it doesn't look awful. The grain and color look natural, contrast is decent especially in the multiple outdoor scenes that have good vibrancy and don't show too much clipping in the white, but overall, there is a lot of softness and one can see some frames with source damage creep in and a lot of film softness.
The Audio
She's the Man comes with a lossless English DTS-HD Master Audio 5.1 mix and the theme for this mix seems to be "go loud" and also place sounds randomly, like a knocking sound far off to the left out of nowhere and some excessive atmospherics in the surround channels. It is not the sort of reserved and balanced mix you normally get from a rom-com, but it's also not a very good aggressive mix. That said it still offer clean dialogue and the soundtrack hits with good punch.
The Supplements
The bonus features on She's the Man have all been previously released and the video features are all in SD.
Commentary by Amanda Bynes, Director Andy Fickman, Co-Writer/Producer Ewan "Jack" Leslie, and Actors Channing Tatum, Laura Ramsey, Robert Hoffman, and Alex Breckenridge
Commentary by Ewan "Jack" Leslie and Producer Lauren Shuler Donner
Making the Man (SD; 00:15:09)
The Troupe (SD; 00:07:53)
Inspired by Shakespeare's… (SD; 00:04:27)
Deleted Scenes with Optional Commentary by Amanda Bynes, Andy Fickman, and Ewan "Jack" Leslie (SD; 00:11:29):

Burger King
In Hallway with Principal
Dunk Tank
Mom Swings the Hammer
Principal's Office
Locker Room
The Cheerleaders
Soccer Montage
Debutante Ball

Gag Reel (SD; 00:03:26)
Music Video "Let Go" by Dave Lichens (SD; 00:03:23)
Theatrical Trailer (1080p)
The Final Assessment
A middling comedy that hits its 15th anniversary, which was late to the game when it was released being a '90s throwback in the aughts and is out of place today given its stereotypes and cliches. The Blu-ray from Paramount is good but not great picture and the bonus features are all repackaged.
---
If you found this review useful please consider clicking the button below and donating to help keep TheaterByte funded and to allow us to continue posting great content.
---
She's the Man (15th Anniversary) is out on Blu-ray March 2, 2021 from Paramount
---
Rating Certificate: PG-13 (for some sexual material)
Studios & Distributors: Dreamworks Pictures | Lakeshore Entertainment | Donners' Company | Paramount Home Media Distribution
Director: Andy Fickman
Written By: Ewan Leslie (screenplay & story) | Karen McCullah (screenplay) | Kirsten Smith (screenplay)
Run Time: 105 Mins.
Street Date: 2 March 2021
Aspect Ratio: 1.85:1
Video Format: AVC 1080p
Primary Audio: English DTS-HD MA 5.1
Secondary Audio: French DD 5.1