– –

The Series
[Rating:5/5]
Flowers of Evil (惡の華 Aku no Hana) is taken from the manga series written and illustrated by Oshimi Shūzō. The anime series, written by Itami Aki and directed by Nagahama Hiroshi (Detroit Metal City) is different from the fare usually put out by the anime production houses. Although set in school and containing elements of teen romance, it is far from the usual comedy, harem, slapstick shōnen works that flood the market. This is dark, moody, angst-ridden, psychologically driven – a character study.
It revolves around Kasuga Takao, an awkward adolescent boy with a quiet and shy demeanor who has inherited a passionate love of books and literature from his father. His favorite book is The Flowers of Evil by Charles Baudelaire, from which the series takes its name. He reads this book of dark poetry over and over. Takao has been harboring a crush on the pretty, popular, and overachieving classmate Saeki Nanako for a whole year, but hasn't had the courage to tell her. Things are about to take a very strange and decisive turn for Takao, however, when after school one day he forgets his book and must turn back to the empty schoolhouse to retrieve it. In the dark and empty classroom a gym bag falls out of a cubby – it's Saeki Nanako's. Takao can't help himself from going through it and inhaling the sweet aroma that is Nanako; a noise causes him to get nervous and run away, stealing her gym suit. Unbeknownst to Takao, his actions were observed by Nakamura Sawa, the strange, quiet, loner girl that sits behind him in class. The next day, Nakamura blackmails him, forcing him into a "contract" with her, or she will expose him as a pervert, telling Saeki and the entire school what he did. From there, she increasingly subjects Takao to her world of strange and delusional fantasies – making him wear Saeki's gym suit under his clothes as he takes Saeki on a date is just one of her tortures. Takao begins to feel simultaneously trapped and beholden — aroused even — to Nakamura, but can't quite grasp why. Does he want to be with the "pure" Saeki, who gets drawn into the twisted world of Nakamura's delusions as well, or does he want to continue in his contract with Nakamura?
A superb examination of adolescent angst, insecurity, and burgeoning sexuality, with on overriding sense of being trapped in one's lot in life, Flowers of Evil is riveting fiction, moody and dark from its opening sequence to the last. Even the animation, which uses a rotoscoping technique similar to that of A Scanner Darkly, imparts a rather bleak and eerie feel to the world which these characters inhabit. This is no candy-colored, kawaii world of pink-haired girls and flying cats. It's claustrophobic, almost hopeless, and filled with all the fears and anxieties that kids either face for real or dream up in their minds. In one episode, Nakamura convinces Takao to take her to the other side of the mountains that close off their tiny town, but she's convinced that, on the other side, is just the end of the world, black void. This is deep stuff.
Video Quality
[Rating:4/5]
Flowers of Evil does not have the typical bright color palette of most anime series, so its not a presentation that's going to standout and really pop. It's reserved, dull even, given to mid- and earth-tones, shades of black and grey. The AVC/MPEG-4 1080p encodement from Sentai looks good, though it does have some issues with color banding. It's free from other problems like stairstepping or video noise.
Audio Quality
[Rating:4.5/5]
Only the original Japanese soundtrack is included in DTS-HD Master Audio 2.0. From an audio standpoint, it's a really good mix, with wide stereo effects and a great balance of the atmospheric musical score. It's one that makes you wish you could hear it in 5.1. The Japanese voice actors voice their character very well and the voices come through with great clarity.
Supplemental Materials
[Rating:0.5/5]
Sentai Filmworks Trailers
Disc Credits
The Definitive Word
Overall:
[Rating:4/5]
If you pick one anime series to watch this year, then this is the one. Flowers of Evil stands out from the crowd and will have you hooked within minutes. Even the ending theme song, "〜花〜 A Last Flower" by Asa-Chang & Junray is just creepy and spellbinding.
Additional Screen Captures
[amazon-product]B00J9IP7K2[/amazon-product]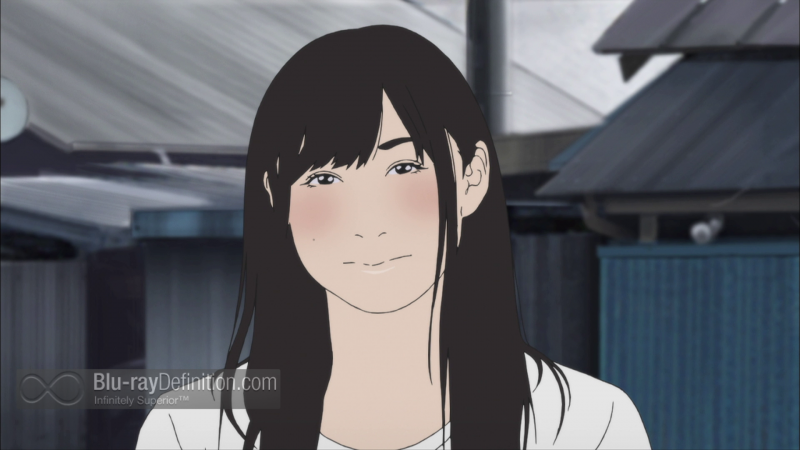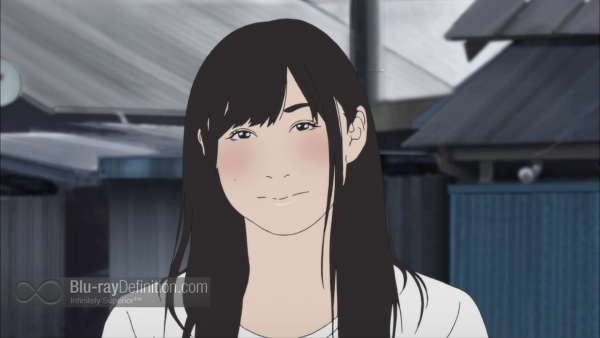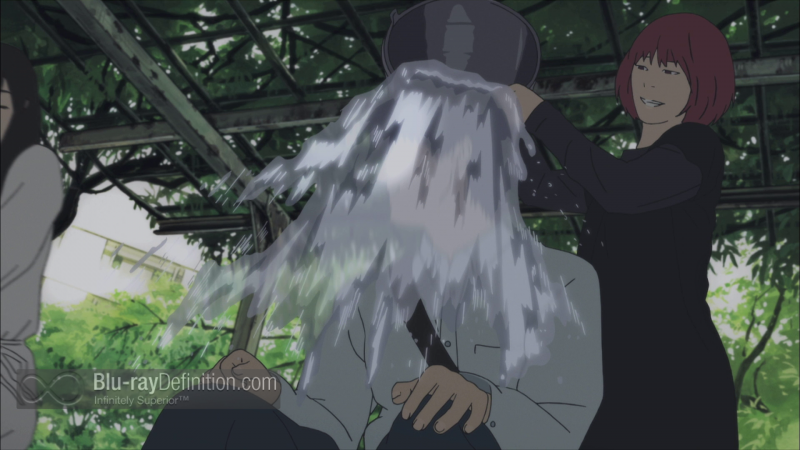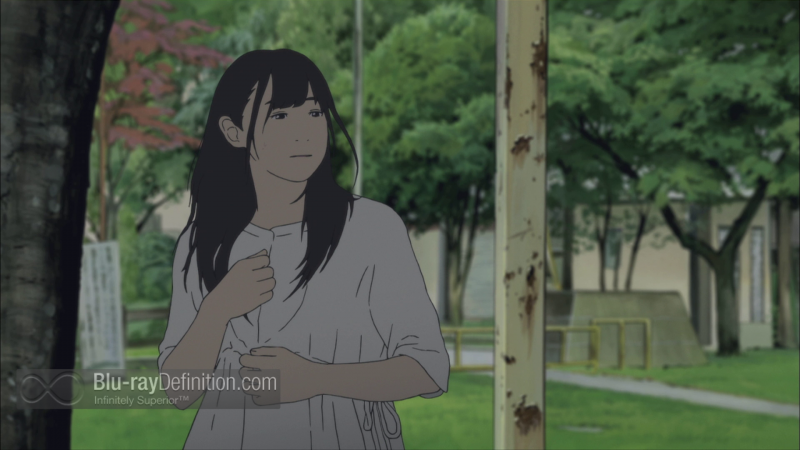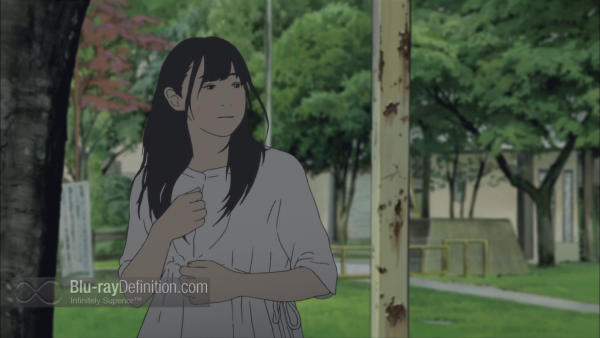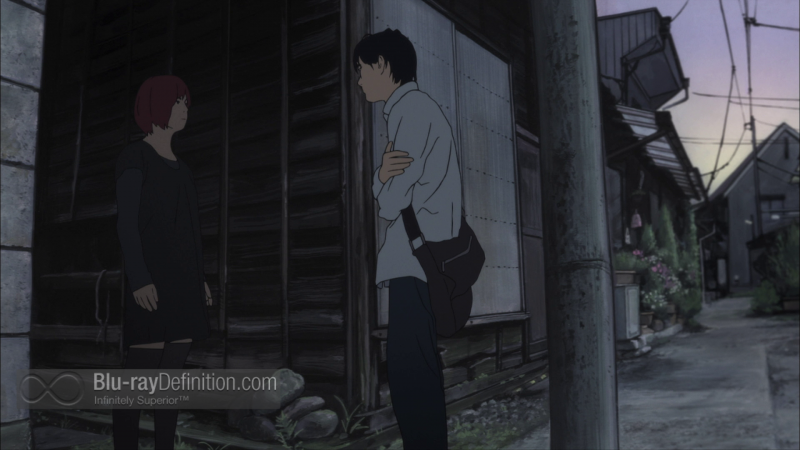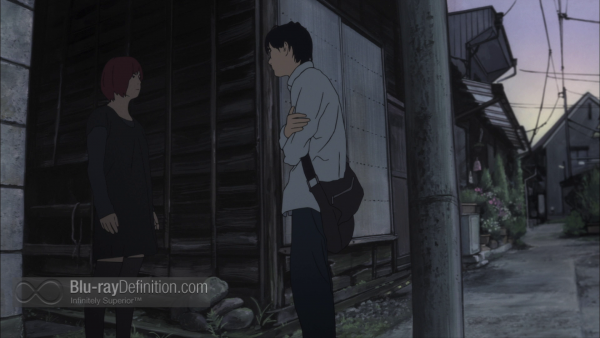 [amazon-product]B00J9IP7K2[/amazon-product]