Mouse-over Cover Art for Details
Click thumbnails for high-resolution 1920X1080p screen captures
(The below TheaterByte screen captures were taken directly from the Blu-ray Disc and losslessly compressed in the PNG format. There should be no loss of picture quality with this format. All screen captures should be regarded only as an approximation of the full capabilities of the Blu-ray format.
The Film
[Rating:5/5]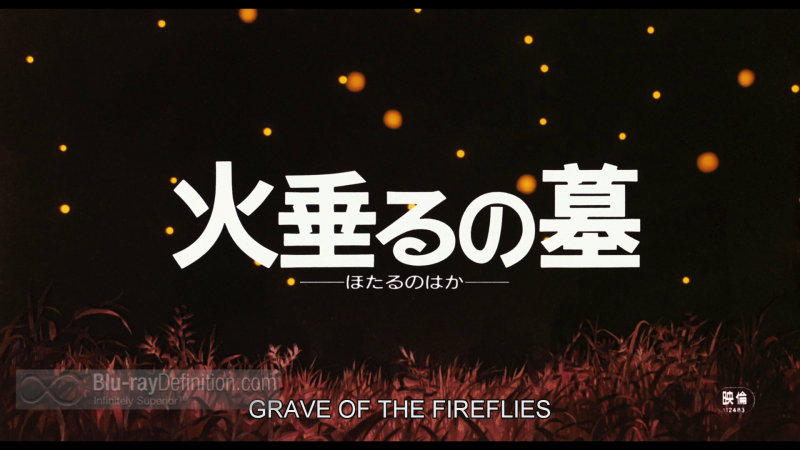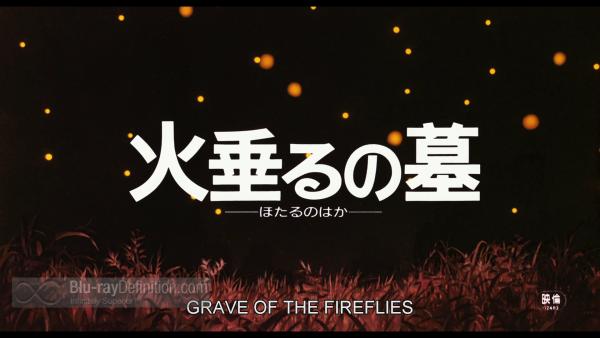 1988's Grave of the Fireflies from director Takahata Isao, based on the Nosaka Akiyuki novel, is that rare cinematic experience in which a powerful and poignant story is told through animation, and told in such a way that we are riveted from moment to moment.
A wartime story of survival, or, more precisely, a lack thereof, the film opens on an unsettling scene, in 1945 as the ghostly visage of young Seita appears on the screen against a nearly black backdrop. We then see him, laid out, disheveled, and moments away from death, before he eventually expires. We are then taken on a journey through flashbacks showing us how he arrived there. It's World War II Japan, and the young adolescent boy Seita is left caring for his little sister Setsuko while their father is away fighting during the war after their mother dies during an air raid on their town. At first the two youngsters travel far to live with a distant Aunt, but she soon grows weary of taking care of them, so the siblings move out to live on their own in an abandoned bomb shelter. Their harrowing struggle for survival becomes the main focus of the story, as the situation becomes desperate, their food becomes scarce, and the young Setsuko becomes ill from malnutrition.
This film tells the story of a wartime struggle the way no live action film ever could. The animation adds a layer that allows for a level of distance, but still maintains a moving and touching story about the perils of war.
Arguably the most serious film in the Ghibli catalogue, Grave of the Fireflies is certainly one of the most important animated features in recent cinematic history, helping to prove that the format can tell complex stories; it's not just a children's medium. It also helps that the film is graced with the rich, and detailed animation that Ghibli has come to be known for.
Video Quality
[Rating:4/5]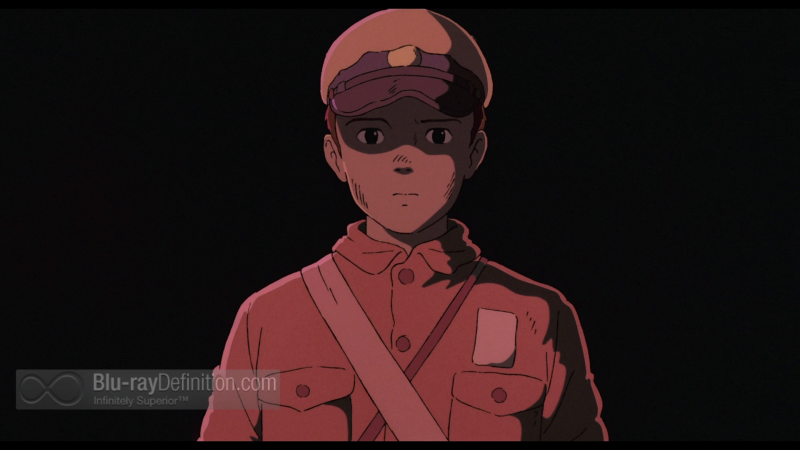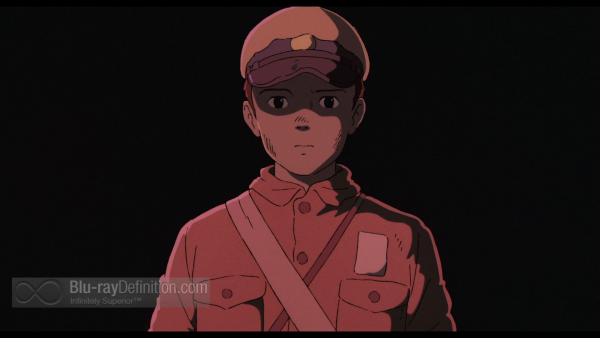 An AVC/MPEG-4 1080p encodement framed at 1.85:1 of the original 35mm animation is provided by StudioCanal. It is clean and colors occasionally pop, but like the companion release Kiki's Delivery Service, and most of StudioCanal's Studio Ghibli offerings, this one suffers from some heavy handed DNR. The result is an animated image that looks a bit too smooth and lacks dimensionality. The overall effect is one that will please those who aren't too critical, but anyone really prickly about these things, like ardent videophiles, anime fans, or those familiar with previous Japanese releases, might not be as forgiving.
Audio Quality
[Rating:4/5]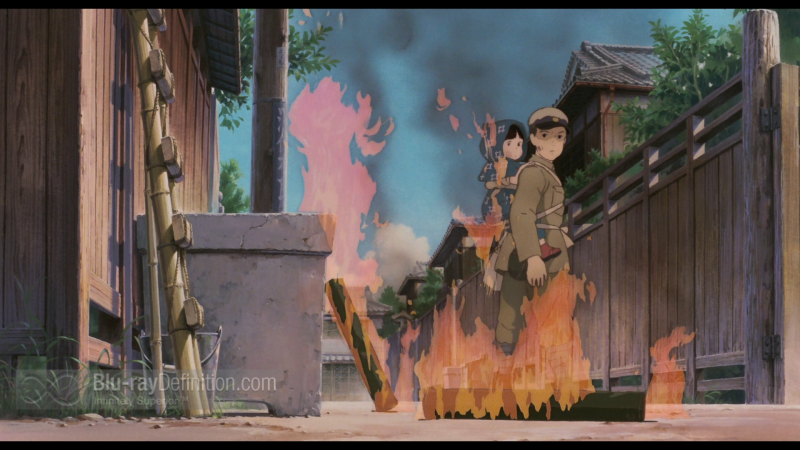 The original Japanese-language stereo mix and an English dub are both offered in LPCM 2.0 stereo (48kHz/24-bit) tracks on this release. The Japanese mix was my reference, and it is a fine effort, despite the lack of additional channels. Some slight clipping in dialogue can be heard, but stereo spacing is good, dynamic range, though subtle, seems spacious enough, and the ambience is natural.
Supplemental Materials
[Rating:3.5/5]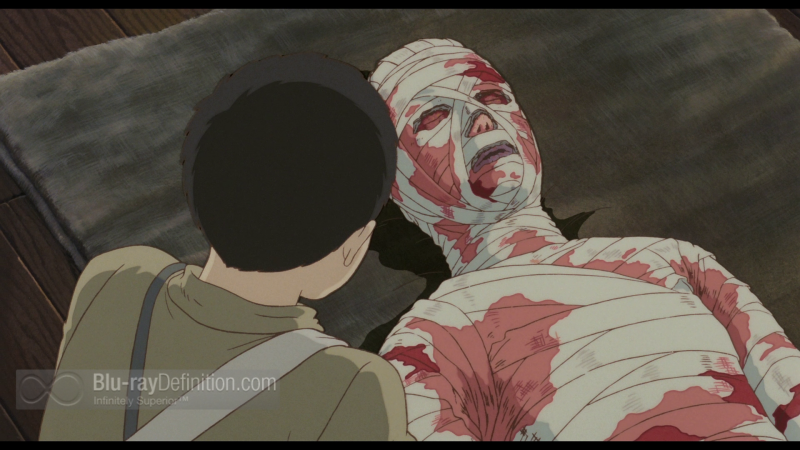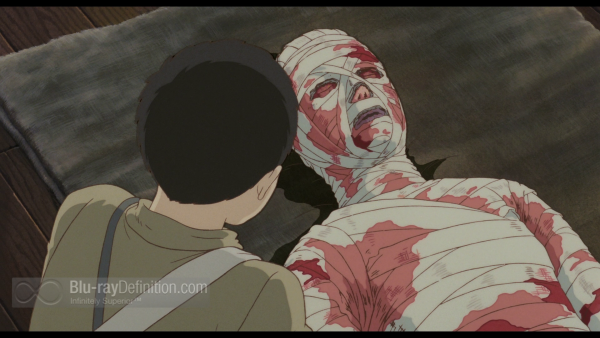 If you watch anything included here, definitely watch the 12-minute historical perspective documentary and the interview with Roger Ebert. Both of these help provide a deeper understanding of this film.
The supplements:
Picture-in-Picture Storyboards
Interview with Director Isao Takahata (1.33:1; SD/PAL; 00:17:39)
Japanese Release Promo – Featuring Interview with Director Isao Takahata and Writer Akiyuki Nosaka (1.33:1; SD/PAL; 00:06:36)
Historical Perspective Documentary (1.78:1; SD/PAL; 00:12:25)
Interview with Film Critic Roger Ebert (1.33:1; SD/PAL; 00:12:07)
Deleted Scene Storyboards (1080p/24)
Bonus Storyboards (1.33:1: SD/PAL; 00:05:02)
Studio Ghibli Trailers
The Definitive Word
Overall:
[Rating:4.5/5]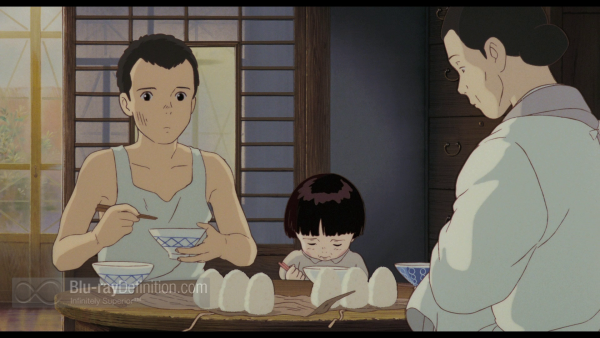 This beautiful film highlights the ill effects of war, the unbreakable ties of love and family, even after death. It's speaks to human emotions across time, age, and borders, and it does it with beautiful animation and an equally evocative musical score. This one is a must-see film.
Additional Screen Captures
[amazon-product region="uk" tracking_id="bluraydefinit-21″]B008LU8O8Q[/amazon-product]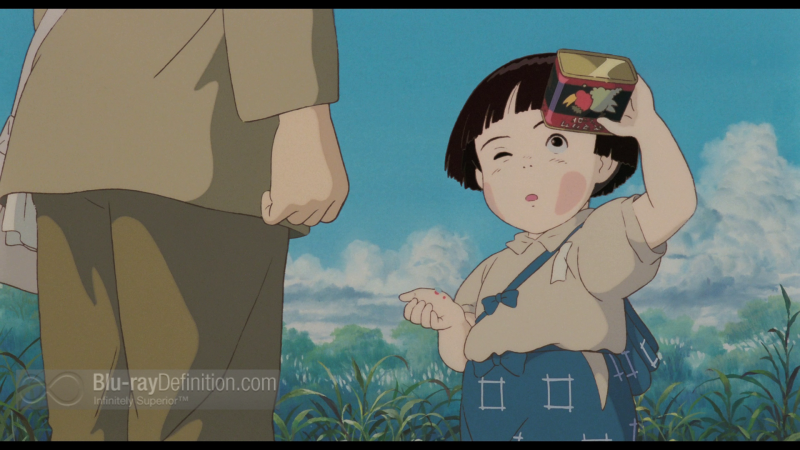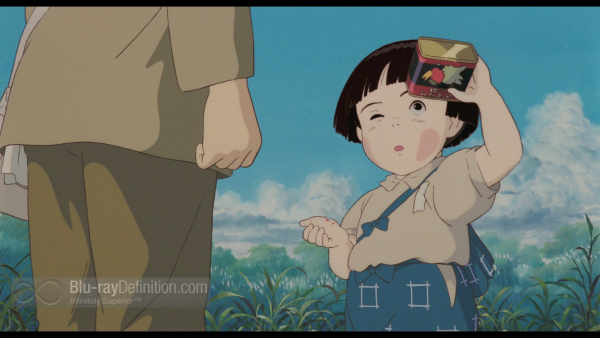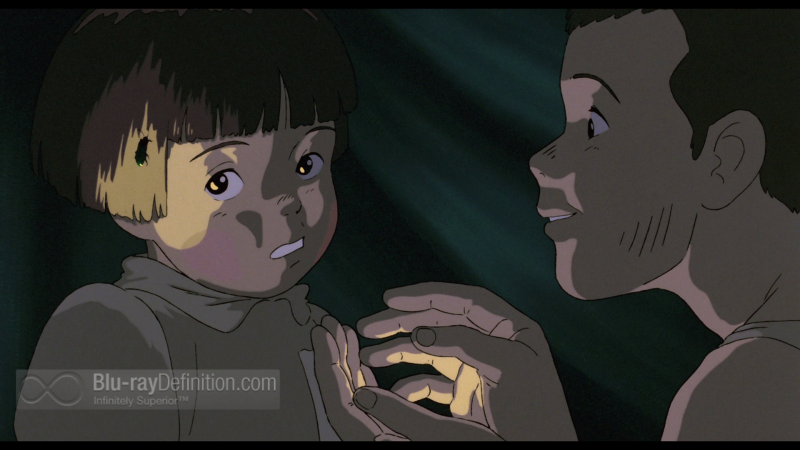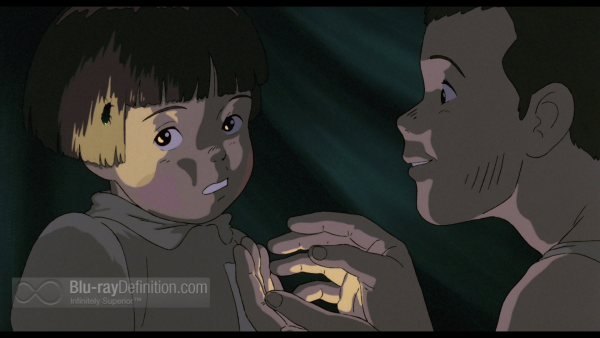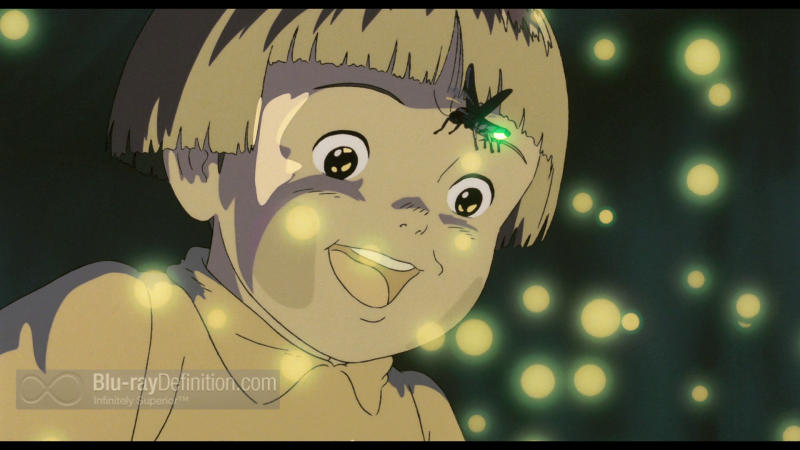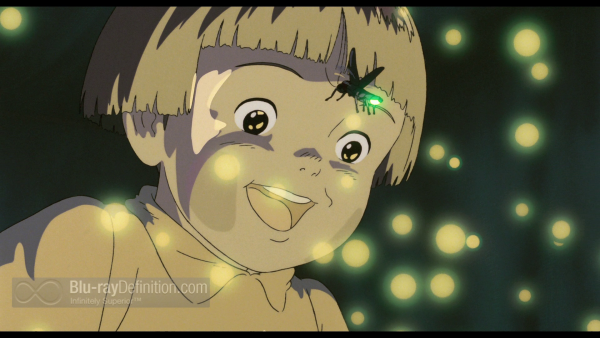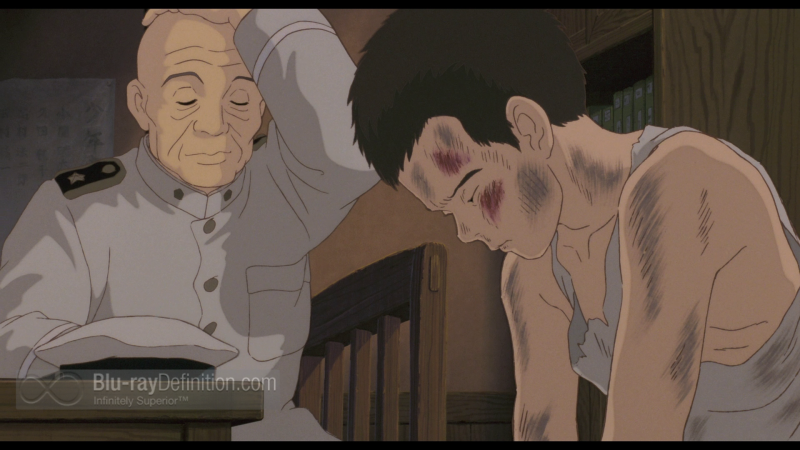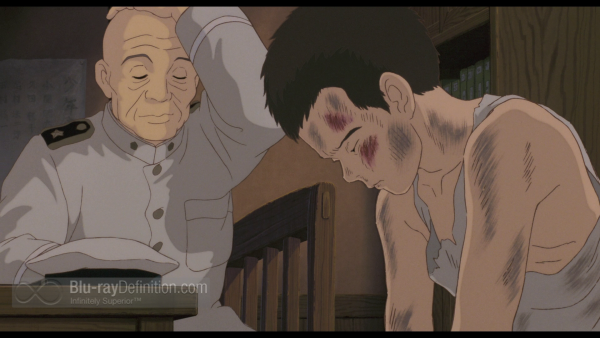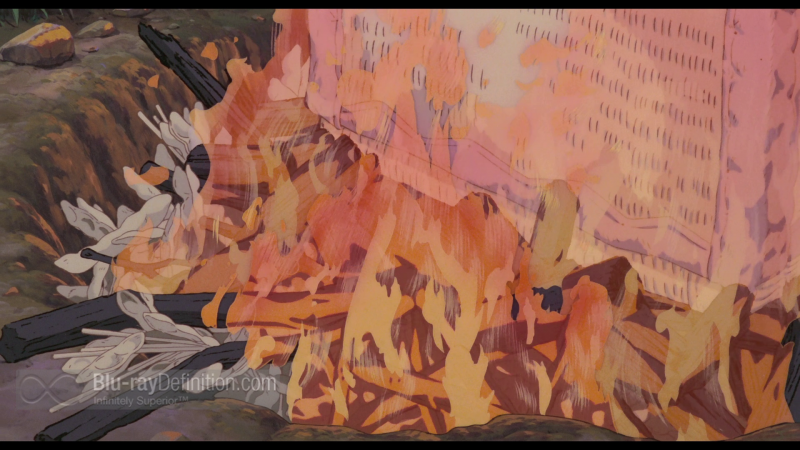 [amazon-product region="uk" tracking_id="bluraydefinit-21″]B008LU8O8Q[/amazon-product]