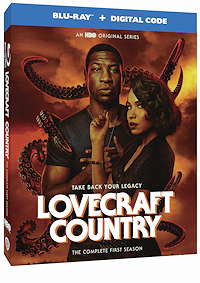 Lovecraft Country: The Complete First Series arrives on Blu-ray from Warner Bros. with all 10 episodes of the first season (the show has already been picked up by HBO for a second season) on three discs. The series, loosely based on the dark fantasy novel of the same name by author Matt Ruff, works Ruff's novel into its own mythology as a fiction-within-a-fiction, referencing the novel as a work written by a fictional author George Freeman II.
The series follows young black Korean War veteran Atticus "Tic" Freeman (Jonathan Majors) as he joins up with his childhood friend Letitia "Leti" Lewis (Jurnee Smollett) and his uncle George Freeman (Courtney B. Vance) and travels across the Jim Crow south in search of his father who has gone missing. Their journey brings them face-to-face with a number of paranormal horrors and the horrors of racism in the segregated south.
Historically, horror, sci-fi, and fantasy have been genres where blacks and people of color have been either non-existent or pushed far into the background. Lovecraft Country brings those people into the foreground and takes on all of those genres, as creator, showrunner, and executive producer Misha Green said, the sky was the limit for this series. The series tapped into not only the Lovecraftian lore, which is the ultimate irony of its own given that H.P. Lovecraft, as great a sci-fi writer he may have been, was also a vocal white supremacist, but also went deep into retro-modernist sci-fi, the Saturday matinee adventures that inspired George Lucas' and Stephen Spielberg's Raiders of the Lost Ark, and more. The most creative aspect of the series is how it seamlessly places the real-world horrors of racism as the real antagonist and monster of the series, offering up a different and much needed take on these genres.


Lovecraft Country (TV) (2020- )
The Video
Lovecraft Country: The Complete First Season comes to Blu-ray in a 1.78:1 AVC 1080p encodement from Warner Bros. I am really wondering why, disappointed in fact, that this hasn't been released on 4K Ultra HD Blu-ray like other Warner and/or HBO releases like Castle Rock: Season 1, Westworld: Season 1, Westworld: Season 2 Westworld: Season 3, and Game of Thrones: The Complete Series when this series is taken from a 4K digital master and is just the right sort of material for a 4K release. That said, this release is pure reference video quality for a Blu-ray and for a TV series, showing that Warner Bros. and HBO quality we have come to expect. Right from the opening in episode one with the 1950s B-movie sci-fi sort of War of the Worlds setup it 'pops' beautifully with excellent color, but that isn't its only strength. Go to Episode 8, for example, during the memorial service for Emmett Till as an example of how much fine detail and excellent contrast there is in the transfer. One can see the fine beads of perspiration on the faces of the actors and individual pores on skin. Shadow detail is superb with very little to no problems with noise or banding.
The Audio
Lovecraft Country comes to Blu-ray Disc with a lossless English DTS-HD Master Audio 5.1 mix as well as lossy Dolby Digital 5.1 dubs in German and French. The English 5.1 mix is a big step up over the lossy Dolby Digital 5.1 that accompanied this with the streaming version I viewed via HBO when the series was originally running. There are much cleaner sounding high frequencies and deeper, more robust low frequencies, more intense surround effects with an accurate soundstage and dynamic range that has more impact than the streaming version.
The Supplements
Lovecraft Country: The Complete First Season is accompanied by a good amount of bonus features that, despite all having the feel of being part of an EPK (Electronic Press Kit), do offer up good interview segments from the cast and crew and analysis from the creators on the series' themes.
Digital Copy Code
Orithyia Blue and the Imagination of Diana Freeman (1080p; 00:11:20) – Take a deep dive into the world of black sci-fi and comic book art of Lovecraft Country in this featurette.
Lovecraft Country: Compendium of Horrors (1080p; 00:12:25) – An overview of the horror and weird monsters in Lovecraft Country and the parallel of real-world horror of racism.
Crafting Lovecraft Country (1080p; 00:28:14) – Go behind the scenes with cast and crew interviews and behind the scenes footage for this making of featurette.
Exploring Lovecraft Country (1080p):

Aunjanue Ellis (00:01:01)
Abbey Lee (00:00:59)
Courtney B. Vance (00:01:01)
Jada Harris (00:01:00)
Jonathan Majors (00:01:01)
Jurnee Smollett (00:01:01)
Michael Kenneth Williams (00:01:01)
Wunmi Mosaku (00:01:02)

Lovecraft Country The Craft:

Afua Richardson (00:02:01)
Eric Yamamoto (00:01:01)
Carey Jones (00:02:01)
JP Jones (00:01:55)
The Final Assessment
An excellent series with major twists, wonderful takes on multiple genres, and superb acting from the leads. This is a great anchor series for HBO that in its first season outpaced HBO's other two heavyweight sci-fi and fantasy series Westworld and His Dark Materials. This Blu-ray release is excellent, reference quality with a good set of bonus features.
---
If you found this review useful please consider clicking the button below and donating to help keep TheaterByte funded and to allow us to continue posting great content.
---
Lovecraft Country: The Complete First Season is out February 16, 2021 from Warner Bros.


---
Rating Certificate: TV-MA
Studios & Distributors: Bad Robot | Monkeypaw Productions | Warner Bros. Television | Home Box Office (HBO) | Warner Bros. Home Entertainment
Creator: Misha Green
Run Time: 590 Mins.
Street Date: 16 February 2021
Aspect Ratio: 1.78:1
Video Format: AVC 1080p
Primary Audio: English DTS-HD MA 5.1
Secondary Audio: French DD 5.1 | German DD 5.1
Subtitles: English SDH | French | German SDH | Dutch | Danish | Finnish | Norwegian | Swedish