– –

The Film
[Rating:4/5]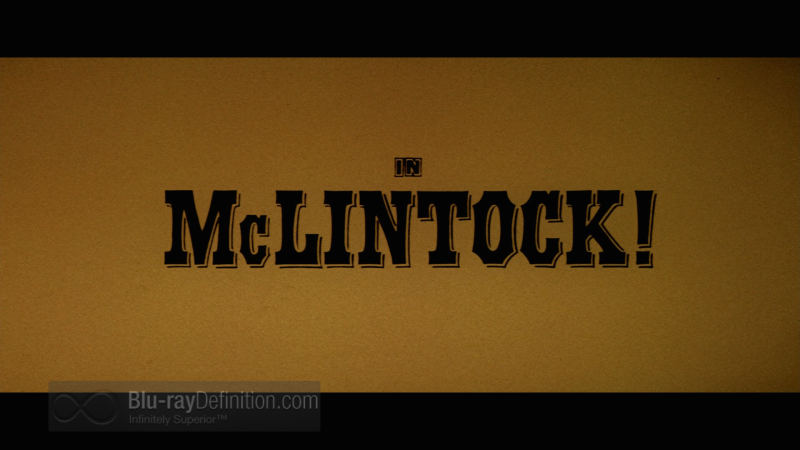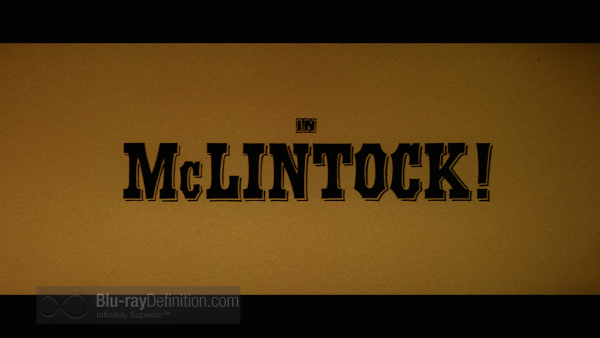 John Wayne and Maureen O'Hara had already been frequent film co-stars for two decades (Wings of Eagles, Rio Grande, The Quiet Man) when McLintock!  was released in 1963. Wayne had fine-tuned his Western hero persona and was also a master of the comic horse opera character. With a cast of western veterans under the knowing directorial hand of Andrew V. McLaglen, we get two hours of pure enjoyment.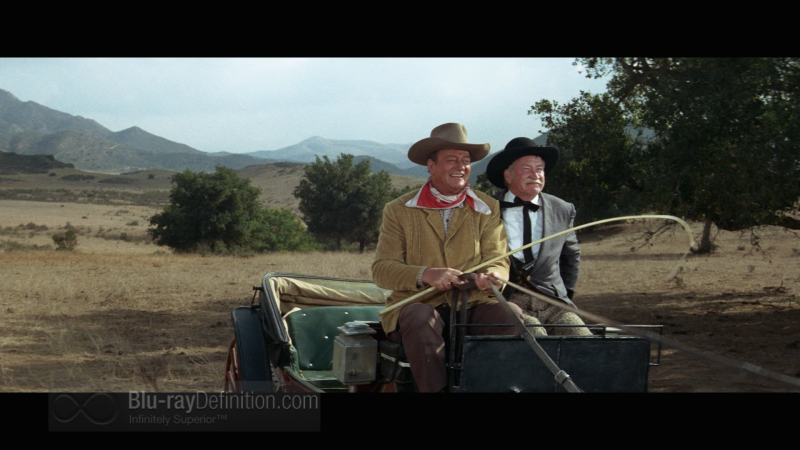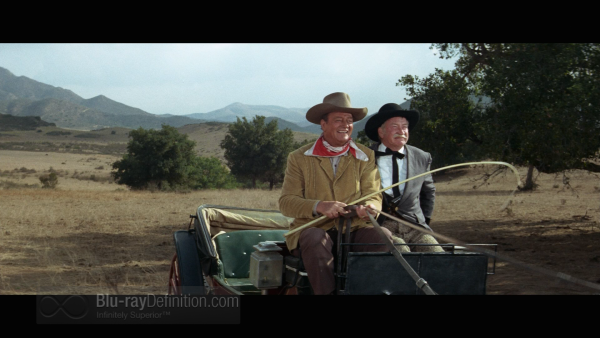 G.W. ("George Washington") McLintock (Wayne) is a cattle baron who owns most of the town named after him and is living apart from his estranged wife, Katherine (O'Hara), now leading the society life in the East. Homesteaders are encroaching on the range but, as Matt Douglas (Gordon Jones) points out to those assembled, G.W. owns the water rights and most of the land is far from arable. Newcomer Devlin Warren (Patrick Wayne) tries to get on job on McLintock's ranch and, with his persistence, gets hired.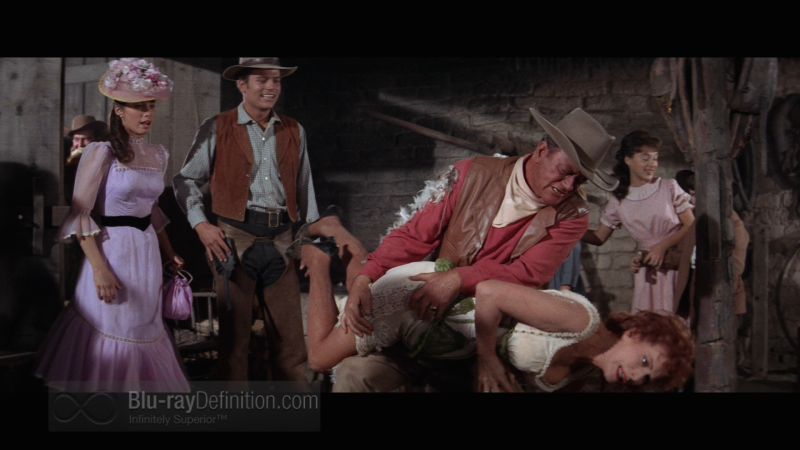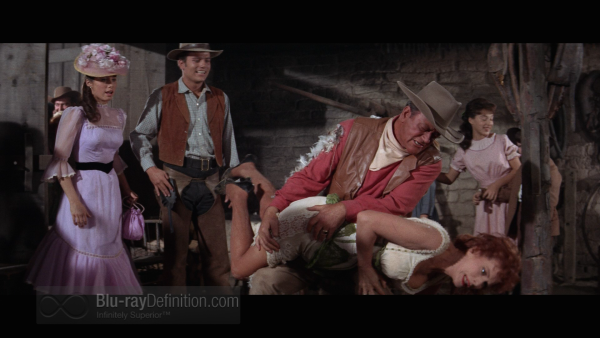 With sidekick assistant Drago (Chill Wills) and storekeeper Jake Birnbaum (Jack Kruschen) to provide comic counterweights, G.W. finds out that the Missus is back in town to inform him that she wants a divorce and their daughter Becky (Stefanie Powers) who is returning from school to live with her. However, McLintock will have none of it.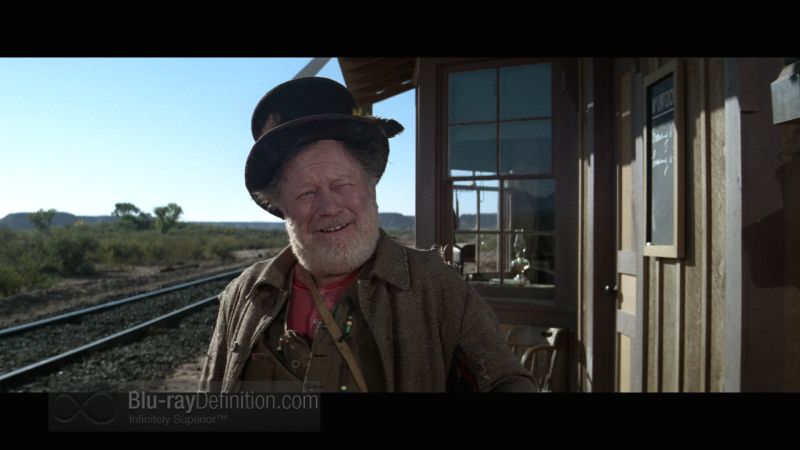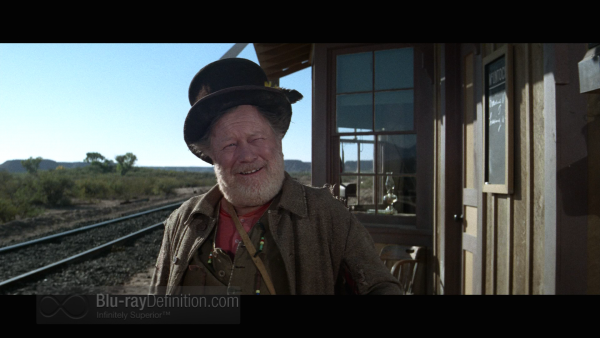 Matters get a bit complicated when McLintock hires Devlin's mother, the attractive Louise Warren (Yvonne De Carlo) for his cook as Kate moves back home to make her case for getting custody of her daughter.  There is the proverbial run-in with the Indians now designated for reservation life, followed by the obligatory large group fist fight in the mud.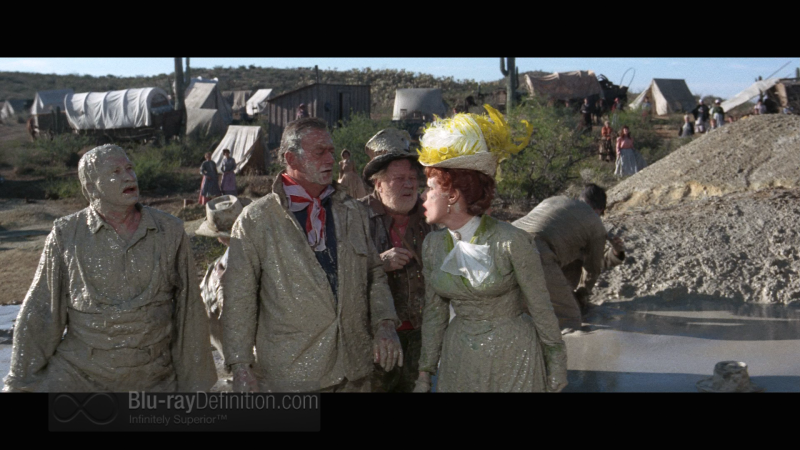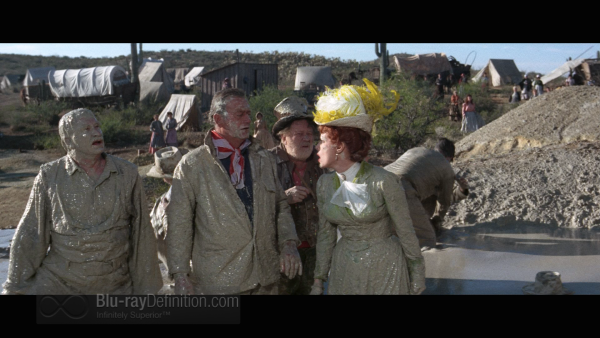 Becky returns home amidst great fanfare while Puma (Michael Pate) the former chief of the Comanches asks McLintock to plead their case to Governor Cuthbert Humphrey (Robert Lowery). Soon, sparks begin to fly between Becky and Dev and even G.W. tries to smooth the way for the young people so that Douglas Jr (Jerry Van Dyke) won't get his daughter.  G.W. tells Becky that he is going to leave her just enough inheritance to get started but that his vast real estate will be donated as public parks so that whoever seeks her hand will do it for love not for money.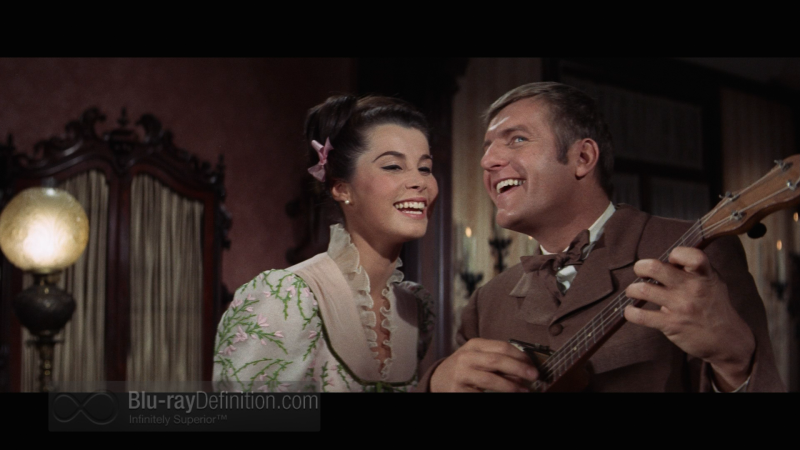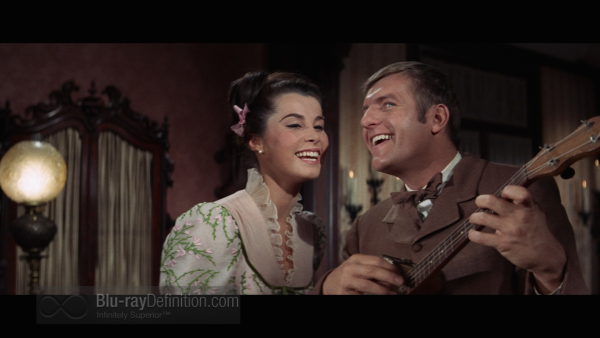 Romantic adventures notwithstanding, a pivotal moment comes as McLintock finally tries to keep the Comanches from being sent to the reservation. When the "side-saddle governor" rules against the Comanches, McLintock comes up with an alternative plan. Following a big McLintock Fourth of July Celebration, during which Kate turns down the governor's proposal, there is a clandestine transfer of arms to the Comanches who interrupt the festivities only to be arrested by the US Cavalry. All is well that ends well, and for the various characters involved, McLintock! concludes with peace and joy.
Video Quality
[Rating:4.5/5]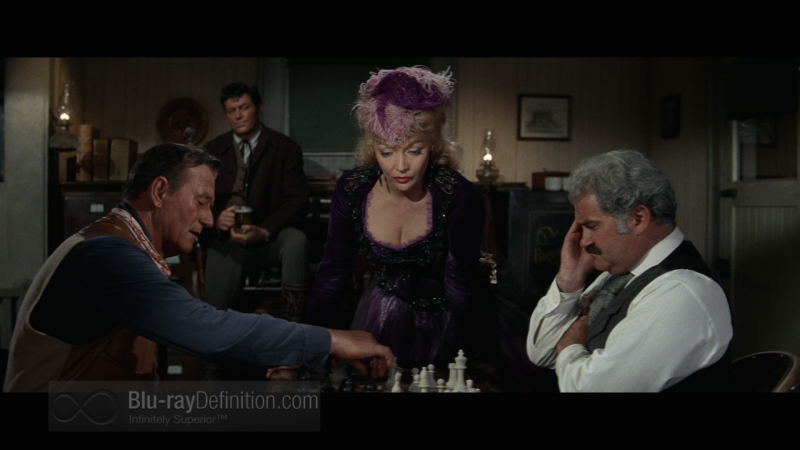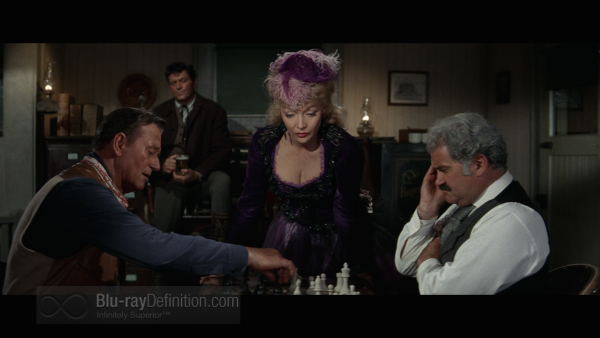 Paramount's Blu-ray restoration wizards have done it again! This is one of the very best reissues that I have yet seen featuring superb colors, incredible detail and, age notwithstanding, a film that could pass for nearly new. The enhancement of the screen images is so good that it becomes obvious that the mountain backdrop is painted in.
Audio Quality
[Rating:3.5/5]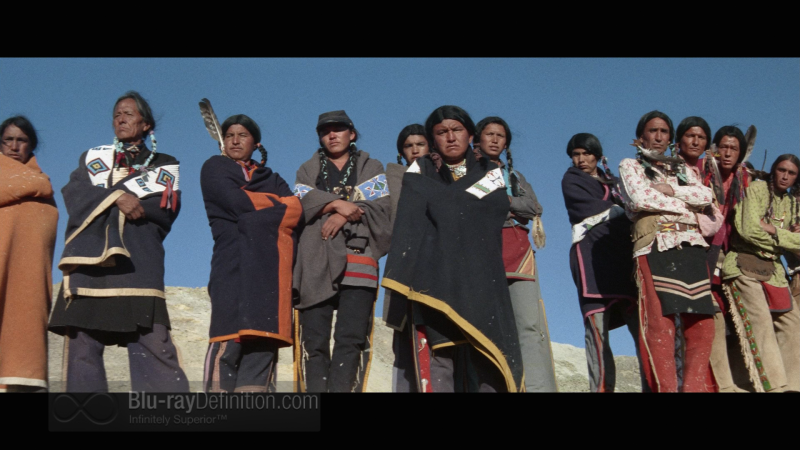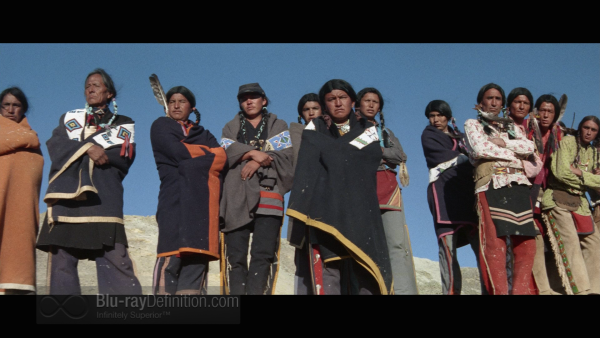 While the original soundtrack was in glorious mono, the TrueHD surround version is spacious with little obvious compression.
Supplemental Materials
[Rating:3/5]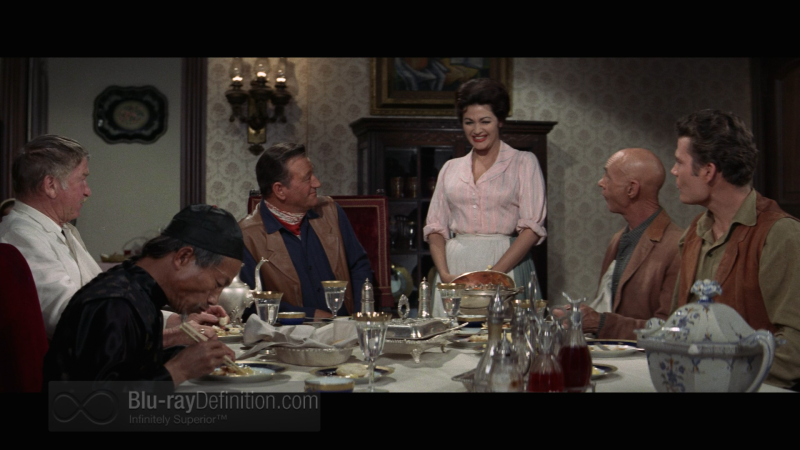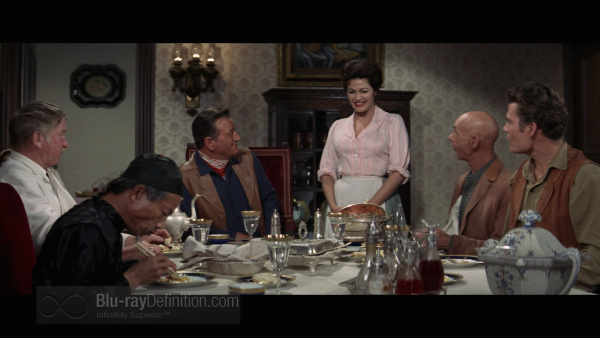 Commentary by Leonard Maltin, Frank Thompson, Maureen O'Hara, Stefanie Powers, Michael Pate, Michael Wayne, and Andrew McLaglen.
Introduction by Leonard Maltin
The Making of McLintock (41:28) (English Dolby Digital Stereo Stereo 48k/16b): Interviews with various performers, directors, and producers that were involved in the Wayne legacy, highlighting Batjac productions led by Wayne's son, Michael. There are also remembrances from cast members Maureen O'Hara and Stefanie Powers, the preparation for the epic fight sequence.
The Corset: Don't Leave Home Without One (English Dolby Digital Stereo Stereo 48k/16b) (7:49): a brief history of the undergarment that shaped women's fashion.
Two-minute Fight School  (2:18) (English Dolby Digital Stereo Stereo 48k/16b):The studio punch team shows how the fight scenes were brought to life.
Photo Gallery
Theatrical Trailer
The Definitive Word
Overall:
[Rating:4/5]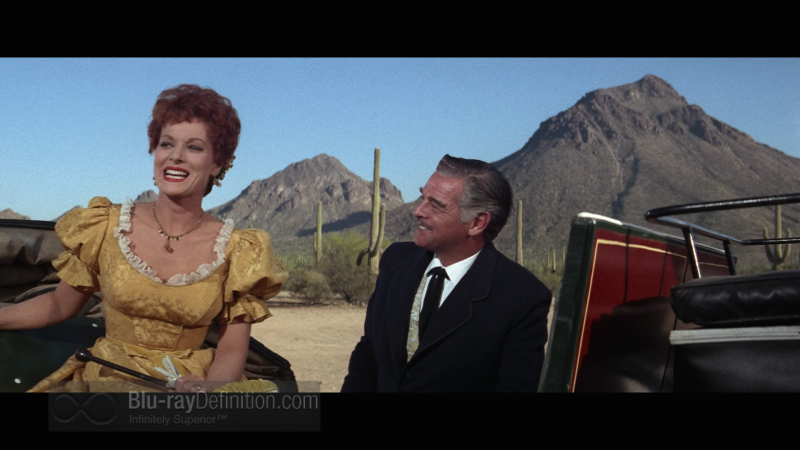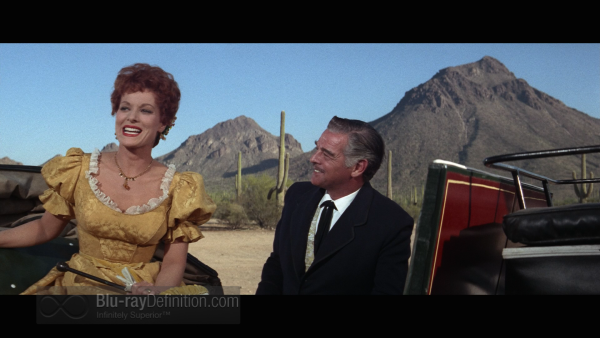 McLintock! is one blast of a film from start to finish. Loosely based on Shakespeare's Taming of the Shrew, Wayne and colleagues obviously got the message that this is a fun flick and do their level best to communicate this spirit to the audience. The chemistry between Wayne and O'Hara is almost akin to that between Spencer Tracy and Katherine Hepburn: it just plain works, and the viewers are the lucky recipients of its success. A totally great watch that reminds us how lucky that we were to get stars of this magnitude on the silver screen. Highly recommended.
Additional Screen Captures
[amazon-product]B00IJE1C1K[/amazon-product]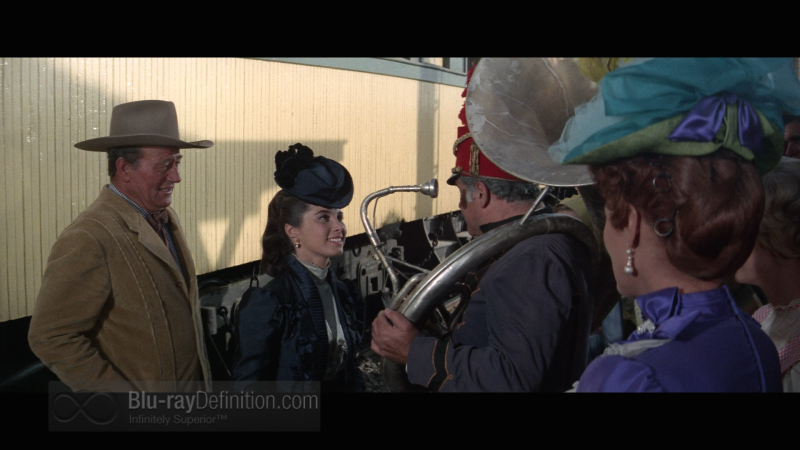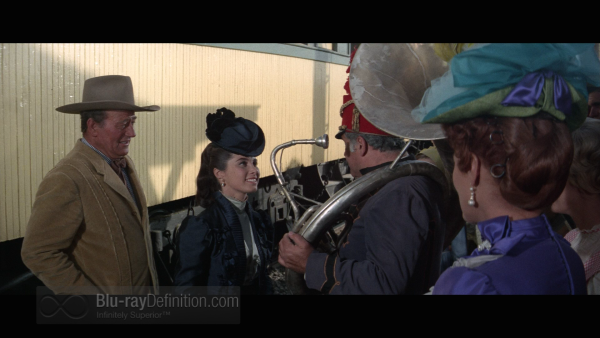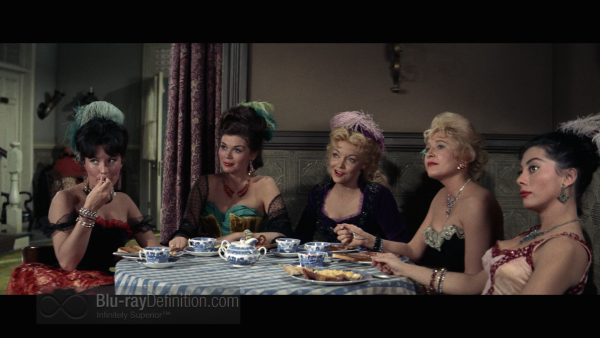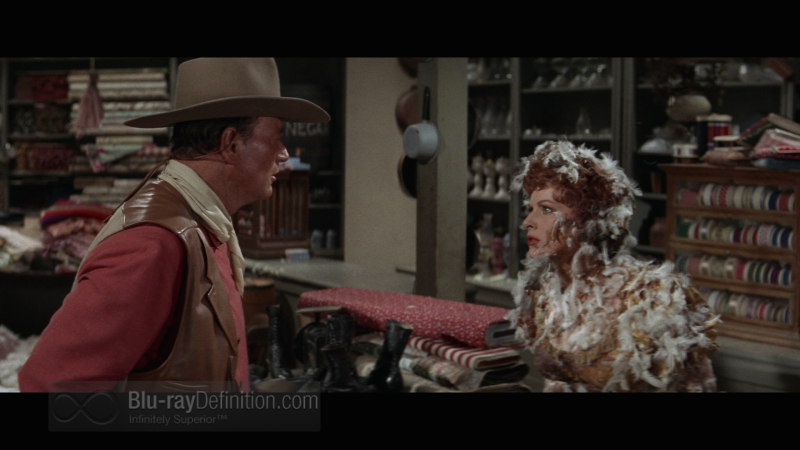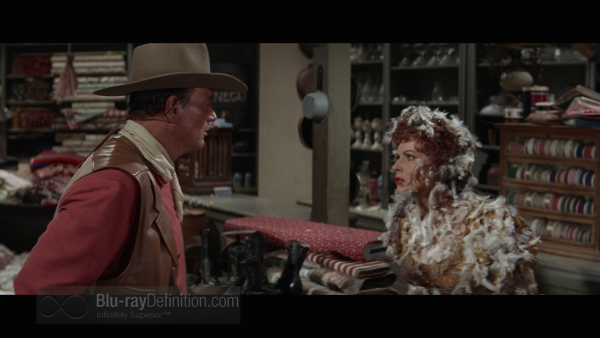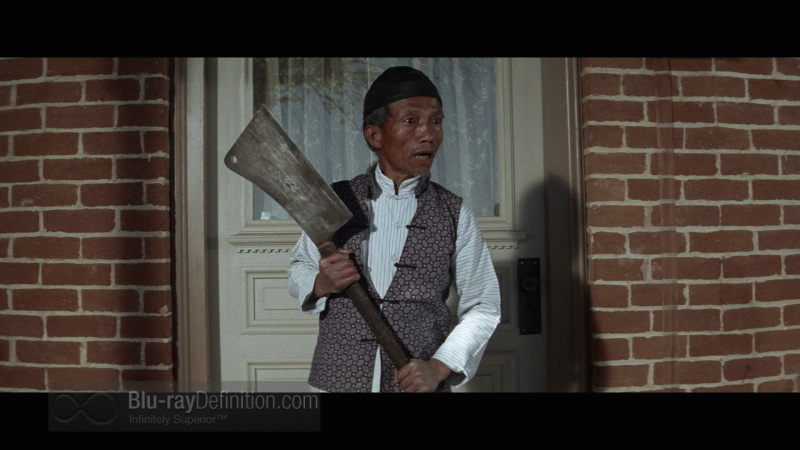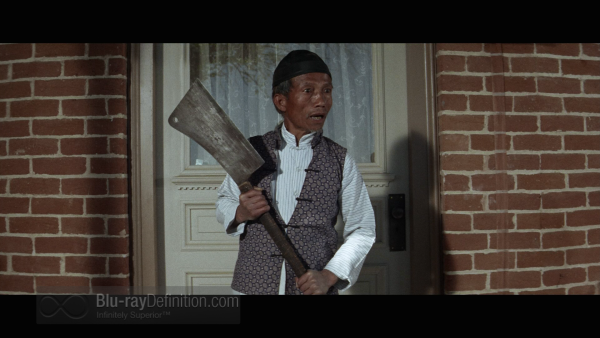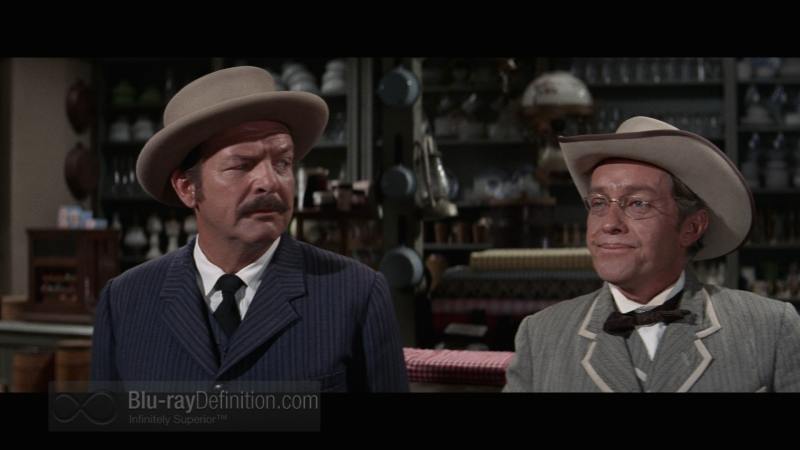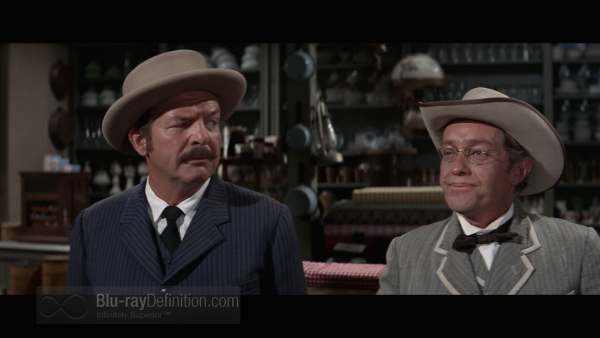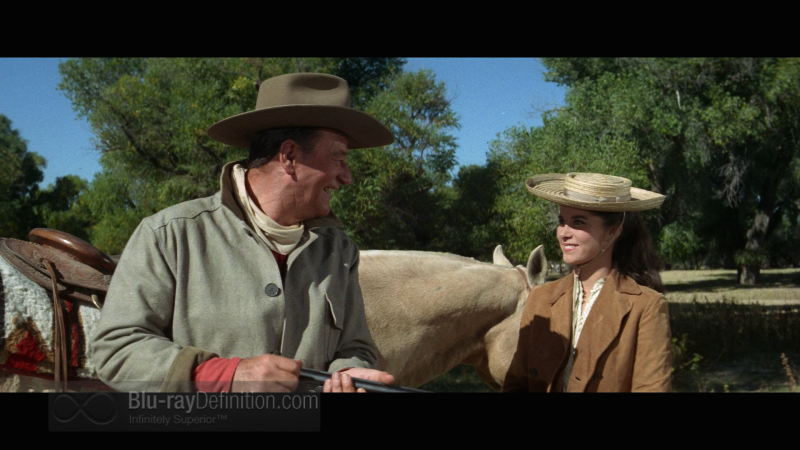 [amazon-product]B00IJE1C1K[/amazon-product]