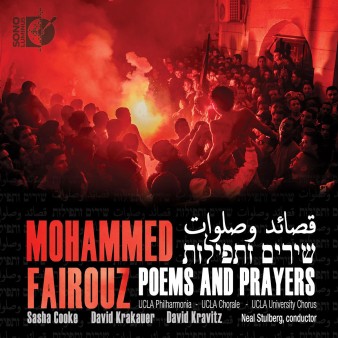 – –

The Album
[Rating:5/5]
We are living in a world that has been continually beset by conflicts between peoples of different religions and ethnicities.  As this is being written, there is an unprecedented threat that is being posed by extremists to citizens of many nations.  In such times, there is truly a need for music that binds rather than separates and provides healing and solace rather than pain and anguish. This Pure Audio Blu-ray™ release of two works by 28 year-old Arab-American composer Mohammed Fairouz may be just the right music at just the right time for all concerned.
Tahir (10:16): This short sonata for clarinet and orchestra takes its origin from the events in Cairo's Tahir (Freedom) Square three years ago during the Arab Spring. While classical in form, one hears the influences of Arabic and Jewish (Klezmer) musical styles throughout. David Kraukauer's soulful clarinet carries the day in this piece.
Symphony No. 3-Poems and Prayers (60:14): This 2010 large four-movement symphony for mezzo-soprano, baritone, tenor, mixed chorus, and orchestra is an amalgam of vocal pieces from the worlds of Islam (Palestinian) and Judaism (Israeli). Each movement concludes with Oseh Shalom, the Hebrew petition for peace. The first movement is based on the "Kaddish" the Jewish prayer for the dead.  The second movement, "Lullaby," combines an excerpt from late Palestinian writer Mahmoud Darwish's State of Siege with "Minyan." The third movement, "Night Fantasy" takes its lead from famed Palestinian poet, Fadwa Tugan's "The Freedom Fighter and the Land." The final movement "Memorial Day for the War Dead" is an excerpt from Seven Laments for the War Dead by Israel's greatest poet, Yehudi Amichai. Soloists mezzo-soprano Sasha Cooke and baritone David Kravitz, the mixed UCLA choral forces, and Philharmonia are led by maestro Neal Stulberg.
To say that this is a remarkable program, given a stellar performance by all concerned, would be the understatement of the year. It is all the more impressive that this is a profound musical statement made by a composer only in his mid-20's at the time that he breathed life into works about death, despair, suffering, yet also about peace and resolution.
Audio Quality
[Rating:5/5]
The works on this disc absolutely demand sound reproduction of the highest quality.  I am happy to report that they are well served by the high resolution versions in DTS-HD Master Audio 5.1 and LPCM 2.0 Stereo formats (I do not have a 7.1 set up so the third option was not evaluated). The sense of place, in this case, UCLA's Royce Hall, is displayed in all of its sonic glory. [Note that display shows the surround versions erroneously to be in 5.0 and 7.0 formats].
Supplemental Materials
[Rating:4/5]
There are extremely thorough background notes on Fairouz and his works by Tamara Levitz. The booklet also provides cast, credits and lyrics, as well brief profiles of the artists involved. Additional musical bonuses include a standard Redbook CD, and MP3 and FLAC files.
The Definitive Word
Overall:
[Rating:4.5/5]
It is not often that a new work by a young (but quite accomplished) composer covers the gamut of human emotions as thoroughly as does this one. Poems and Prayers is not only a symphony for our troubled times but one that is truly timeless, capable of reaching audiences of all religious persuasions.  If there was ever a new Pure Audio Blu-ray™ release that demands to be heard, this is it.
[amazon-product region="uk" tracking_id="bluraydefinit-21″]B00JDB4BW0[/amazon-product]
[amazon-product region="ca" tracking_id="bluraydefinit-20″]B00JDB4BW0[/amazon-product]
[amazon-product]B00JDB4BW0[/amazon-product]