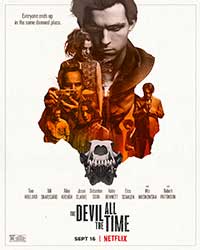 Writer-director Antonio Campo's new psychological thriller The Devil All the Time appears to be a classic case of Quentin Tarantino meets the Coen brothers as it takes direct aim at the highly charged issues of religion, sexual predators, serial killers, and good old- fashioned family values.
Alternating the settings of rural West Virginia and small-town southern Ohio, this slow-burning tragedy begins with a young soldier, Willard Russell (Bill Skarsgård) returning home from World War II and, along the way, he meets a pretty waitress Charlotte Willoughby (Haley Bennett). The couple get married and have a son Arvin (Michael Banks Repeta). Although Willard's mother Emma (Kristin Griffith) is a devout churchgoer, Willard does not get religion until his son is born and then sets up a shrine in the forest. When cancer claims Charlotte's life, Willard kills himself, leaving Arvin an orphan.
Emma and her brother Earskell (David Atkinson) have already "adopted" young Lenora Laferty (Eliza Scanlen), whose mother Helen (Mia Wasikowska) was murdered by her unhinged preacher husband Roy.  When Arvin joins their humble household, he and Lenora become like brother and sister.  Now an adolescent, Arvin (Tom Holland) j has a bad temper and it erupts when three boys at school harass Lenora. Later, he seeks out and beats the tar out of each one of them.
The turning point of this story occurs after the arrival of a new preacher Reverend Preston Teagardin (Robert Pattinson). Teagardin gets Lenora pregnant and when he disavows responsibility for this deed, the distraught young girl hangs herself.  Arvin finds out that his dead "sister" was pregnant, he connects the dots and takes out the Reverend. As Arvin takes off on a journey of self-realization, a number of the characters' paths will  converge, a string of killings will ensue, and we get an ending that is as ambiguous as much of what preceded it.
The Devil All the Time is a gritty film narrated by Donald Ray Pollock, the author of the novel on which it is based.  The script co-authored by the Campos brothers is a reasonably faithful adaptation of the book, perhaps a bit too faithful as it runs longer than necessary to paint the broad strokes of the storyline. The homespun score provided by Danny Bensi and Saunder Jurriaans is occasionally sprinkled with the era's pop songs, and sets up a nice backdrop for a realistic portrayal of the region's humble lifestyles. But below this folksy exterior, the darkness that permeates many of the characters and their deeds clearly conveys the vibes of films like Blood Simple and Natural Born Killers. Such comparisons may dissuade some from taking in this film and there are certainly scenes that will prove difficult for squeamish viewers to watch,  What saves The Devil's proverbial bacon is a truly outstanding cast led by Tom Holland as the troubled young man who has watched his family gradually get destroyed. He gets nice support from Emma Russell, Robert Pattinson, Riley Keough and Jason Clarke as the serial killer couple the Hendersons, and Sebastian Stan as the corrupt Sheriff Lee Bodecker. Antonio Campo's films are never dull, this one being no exception and it definitely stokes my interest in catching his upcoming series The Staircase due out next year.
The Devil all the Time is streaming now on Netflix
[youtube https://www.youtube.com/watch?v=EIzazUv2gtI&w=958&h=539]
---
The Film: 3.5/5
Studios & Distributors: Nine Stories Production | Bronx Moving Company | Netflix
Rating Certificate: R (for violence, bloody/disturbing images, sexual content, graphic nudity, and language throughout)
Country: USA
Language: English
Run Time: 138 Mins.
Aspect Ratio: 2.35:1
Director: Antonio Campo
Written By: Pablo Campo | Antonio Campo
Release Date: 16 September 2020 (USA)