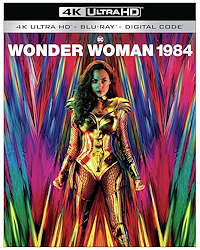 Patty Jenkins returns to head the sequel to what was arguably the best entry in the DCEU with Wonder Woman 1984, the film that kicked off WarnerMedia's pandemic era entry into first run streaming of their theatrical releases on their HBOMax service.
It's decades after Diana Prince (Gal Gadot) defeated Ares during World War I and she has tried to live a life of normality, now in the 1980s during the Cold War era, but she has never stopped mourning the loss of her love Steve Trevor (Chris Pine). Two new enemies emerge that will take her mind off mourning however, the billionaire media mogul Maxwell Lord (Pedro Pascal) who discovers the secret to granting himself and everyone he touches their deepest desire, and Diana's former friend and colleague, Barbara Ann Minerva (Kristen Wiig), who becomes a powerful foe. Diana also inadvertently resurrects her boyfriend Steve's essence in another man's body through the secret of Lord's power. But Diana as Wonder Woman must stop Lord and Minerva to restore balance to the world and as a consequence, once again lose the love of her life Steve.
Let's just get right down to it: Wonder Woman 1984 is not good. The plot is convoluted to say the least. What could have been a fun retro romp is turned into a long, laborious journey through 1980s cliches that could have been set in any decade. The '80s backdrop is just kitsch for a poorly put together screenplay. There's an opening sequence with young pre-teen Diana in a tournament with her Amazon sisters that is more thrilling than almost anything that is to come. It also teaches a Diana a lesson that I am hard pressed to figure what bearing it has on the rest of the film.
Pedro Pascal tries his best with the villain he is presented with playing, but Lord is a pathetically unscary villain, and the climax of the film kind of shows how weak he truly is. Patty Jenkins terribly underuses Minerva as a villain and I haven't even gotten to the creepy Steve in another man's body and Diana getting, ahem, intimate with him part.  Does that count as sexual assault?
There are some good points to the film, such as the funny sequence with NewSteve trying on various forms of 1980s clothing or the adrenalin rush that is the open road chase in the Middle East with Steve and Wonder Woman fighting the meanies on the tops of trucks, but the good parts are spread so far and wide in this sequel that the 151 minutes run time is hardly justified.


The Video
The film was shot on ARRIRAW (3.4K) (6.5K) (some scenes), IMAX (some scenes), Panavision Super 70 (some scenes), and Super 35 and uses a 4K DI. It arrives on 4K Ultra HD Blu-ray in an HEVC 2160p (4K UHD) encodement with Dolby Vision & HDR10+ HDR, both compatible with HDR10. The aspect ratio is variable with some at 1.90:1 and some at 2.39:1.
What you get with this disc release of the film is definitely going to be a step up from the HBO Max stream as far as the overall picture quality. Even with my Gigabit speed broadband hitting at least 890Mbps download speeds, I still saw some banding and compression issues with the Max stream. That's all gone here. The picture is very crisp and detailed with no hints of banding or compression noise. The opening tournament sequence is the cleanest and looks to be the likeliest to have been shot on IMAX or in 6.5K. Moving to the 1980s, the film grain is thinly layered but natural, colors look a little more vibrant than in the opening, but they don't quite 'pop' like one would hope especially in the shopping mall opener. What also really doesn't give much 'pop' is the Dolby Vision. Not only is the MaxFALL listed as only 200 nits according to the metadata reported by my Panasonic UB9000, but according to my eyes as I can see on my LG CX OLED, there aren't very bright specular highlights going on in this 4K release. Even Wonder Woman's lasso doesn't seem to really dazzle much. Overall shadow detail is fine and there is no clipping in white levels or crushing in blacks, but this isn't going to be a reference Dolby Vision or HDR10 release. The included Blu-ray stands up to the 4K disc very well and those who are not 4K or HDR capable won't be missing much of anything if they skip the 4K.
The Audio
Wonder Woman 1984 arrives on 4K Ultra HD with an English Dolby Atmos audio mix. This mix is competent, but that's about it. It does present full and clear dialogue and fills the channels with the energetic Hans Zimmer score, but there isn't very much height awareness going on or even what could be considered solid sound effects being mixed through the surround channels. The sequence in the Middle East is one of the very limited sequences that brings some brief, strong height awareness as helicopters are panned overhead. The audio does have deep low end to underpin much of the action.
The Supplements
Wonder Woman 1984 comes with a pretty good selection of 'making of' featurettes on the included Blu-ray that features a lot of interviews and behind the scenes footage. Additionally, they've included a gag reel and some other light odds and ends.
Movies Anywhere Digital Code
Blu-ray with Feature Film and Special Features
The Making of Wonder Woman 1984: Expanding the Wonder (1080p; 00:36:23)
Gal & Kristen: Friends Forever (1080p; 00:05:10)
Small But Mighty (1080p; 00:10:44)
Scene Study: The Open Road (1080p; 00:06:11)
Scene Study: The Mall (1080p; 00:05:03)
Gal & Krissy Having Fun (1080p; 00:01:12)
Meet the Amazons (1080p; 00:21:28)
Black Gold Infomercial (1080p; 00:01:38)
Gag Reel (1080p; 00:06:26)
Wonder Woman 1984 Retro Remix (1080p; 00:01:40)
The Final Assessment
A disappointing sequel is given a solid disc release that is definitely an upgrade in PQ and AQ over the streaming version, but not going to provide the A+ 'wow' factor some people may be looking for.
---
If you found this article useful please consider clicking the button below and donating to help keep TheaterByte funded, which will allow us to continue posting great content.
---
Wonder Woman 1984 is out on 4K Ultra HD Combo March 30, 2021 from Warner Bros.
---
Rating Certificate: PG-13 (for sequences of action and violence)
Studios & Distributors: Atlas Entertainment | DC Comics | DC Entertainment | The Stone Quarry | Warner Bros. | Warner Bros. Home Entertainment
Director: Patty Jenkins
Written By: Patty Jenkins (story & screenplay) | Geoff Johns (story & screenplay) | Dave Callaham (screenplay) | William Moulton Marston (based on characters from DC Wonder Woman created by)
Run Time: 151 Mins.
Street Date: 30 March 2021
Aspect Ratio: Variable 1.90:1/2.39:1
Video Format: HEVC 2160p (4K UHD)
HDR Format: Dolby Vision & HDR10+ (both compatible with HDR10)
Primary Audio: English Dolby Atmos (Dolby TrueHD 7.1 compatible)
Secondary Audio: English DD 5.1 | English Audio Description | French DD 5.1 | Spanish DD 5.1 | Portuguese DD 5.1
Subtitles: English SDH | French | Spanish | Portuguese