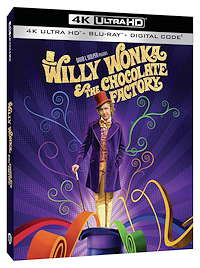 All outward appearances point to Willy Wonka and the Chocolate Factory being no more than a silly, family friendly musical about kids in a candy factory, but one should never jump to conclusions. Willy Wonka is in fact a dark comedy in disguise, with a screenplay by Roald Dahl (Fantastic Mr. Fox) that stays rather true to his book, Charlie and the Chocolate Factory.
The story follows the eccentric and enigmatic candy manufacturer, Willy Wonka, played exceptionally by Gene Wilder, who holds a contest by hiding five golden tickets in his delectable Wonka chocolate bars, the prize being a chance to tour his chocolate factory. The children who win are all obnoxious brats, except the kindhearted Charlie (Peter Ostrum), a poor kid whose first break in life, it seems, is finding this winning ticket. But for viewers, we don't even know for sure if we should like Charlie, because he's been approached by a competitor of Wonka and asked to steal a new candy from the factory.
Wonka himself is odd, and during the factory tour, the children all touring with their parents, save for Charlie who has brought his grandfather along, he punishes each child as they break the rules of his factory. One child falls into the chocolate river and is sucked up a tube, another is turned into a giant blueberry that must be juiced. At least it seems that Wonka has punished them, he more just stands by and allows things to happen.
Perhaps there is a moral to Dahl's story, "children shouldn't misbehave," but Dahl's tales are always more complex than what first meets the eye. Whatever the case is, this version of Dahl's story is superior to the more modernized version with the original name (the name of this one was changed at the behest of Quaker Oats who sponsored the film and were launching a new chocolate bar, the "Wonka"). Despite Johnny Depp's best efforts, he just came across as a creepy pedophile. Maybe it's the memorable songs in Willy Wonka and the Chocolate Factory coupled with Wilder's reserved performance that make it much more palatable.
Willy Wonka & the Chocolate Factory (1971)
The Video
This new 4K restoration of Willy Wonka & the Chocolate Factory arrives on 4K Ultra HD Blu-ray framed at the originally intended 1.85:1 aspect ratio (the film was shot at 1.66:1 and intended for 1.85:1) with an HEVC 2160p HDR10 encodement. Despite being mastered on a monitor with maximum of 4000 nits, the MaxLL on this release is 3112 nits and the MaxFALL is still only 252 nits, so it isn't necessarily much brighter than the previously available, 40th Anniversary Blu-ray, which is included with this set, but it is an improvement. The detail and film grain are much crisper, the depth of field is more extended, and colors are more vibrant. The HDR does offer some more 'pop' in the colors and some of the highlights like the shimmer on the chocolate river or lights in Charlie's home, but nothing blinding or gimmicky. In comparison to the previous Blu-ray edition, however, everything on this 4K disc looks much clearer and more realistic with a bit less film softness.
The Audio
On 4K Ultra HD, Willy Wonka & the Chocolate Factory comes with a DTS-HD Master Audio 5.1 mix. It brings good clarity and dynamic range, but there isn't much going on in the surround channels beyond some atmospherics and low end is a bt shallow.
The Supplements
There are no new supplements included in this set. The audio commentary with the Wonka Kids is the only bonus feature that appears on both the 4K and included Blu-ray.
Commentary with the Wonka Kids (4K & Blu-ray)
Pure Imagination: The Story of Willy Wonka and the Chocolate Factory (SD; 00:30:25) – Includes interviews with director Mel Stuart, producer David Wolper, star Gene Wilder and the five Wonka kids.
Vintage 1971 Featurette (SD; 00:04:02)
Fun + Games:

Sing-Along Songs

I've Got a Golden Ticket
Pure Imagination
I Want it Now
Oompa-Loompa-Doompa-De-Do

Theatrical Trailer (SD)
The Final Assessment
Warner Bros. has rectified what was only a middling 40th Anniversary release on Blu-ray with much better 50th anniversary 4K restoration that really sparkles. Willy Wonka & the Chocolate Factory is highly recommended.
---
If you found this article useful please consider clicking the button below and donating to help keep TheaterByte funded, which will allow us to continue posting great content.
---
Willy Wonka & the Chocolate Factory (50th Anniversary) is out on 4K Ultra HD Combo June 29th, 2021 from Warner Bros.
---
Rating Certificate: G
Studios & Distributors: Wolper Pictures (as A Wolper Pictures, Ltd. Presentation) | Paramount Pictures | Warner Home Video
Director: Mel Stuart
Written By: Roald Dahl (screenplay by) (book "Charlie and the Chocolate Factory") | David Seltzer (screenplay by) (uncredited)
Run Time: 100 Mins.
Street Date: 29 June 2021
Aspect Ratio: 1.85:1
Video Format: HEVC 2160p (4K UHD)
HDR Format: HDR10
Primary Audio: English DTS-HD MA 5.1
Secondary Audio: French DD 5.1 | Italian DD 5.1 | Spanish (Castilian) DD 1.0 | Spanish (Latino) DD 1.0
Subtitles: English SDH | French | Italian SDH | Spanish (Castilian) | Dutch | Spanish (Latino) | Danish | Finnish | Norwegian | Swedish