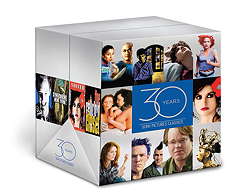 Similar to their 1991 outing Delicatessen, writers/directors Marc Caro's and Jean-Pierre Jeunet's The City of Lost Children is a surreal steampunk sci-fi/fantasy that is visually inventive and set in a world and tells a story that is just a bit off-kilter.
The hideous Krank (Daniel Emilfork) rules over a tiny island off a harbor town. His cantankerous demeanor is made worse by the fact that he is unable to dream, but he has developed a device that allows him to suck the dreams right out of other's brains. To feed his need, he has been stealing little children from the nearby town so he can steal their dreams. One such child he kidnaps is little Denree (Joseph Lucien); he is the little brother of carnival strongman One (Ron Perlman), a giant of a man who is a bit slow in wit but determined to find and get his little brother back. On Krank's island, One meets the young girl in a red dress Miette (Judith Vittet), who runs with a gang of orphans who spend their time on the streets committing petty crimes to help fill the coffers of a couple of conjoined twin sisters and avoiding Krank. Miette says she can help lead One to Denree. One must also contend with a group of clones who argue over who is the original and a disembodied brain in a tank that can talk.
This is a cinema of the dark and macabre, almost animated, with references and allusions to Blade Runner, the grimy orphans of Dickens, and the constantly shifting and inventive mise-en-scene that holds the viewer's attention and fills their imagination. Sitting down to view this is like stepping into the dark, upside version of Wonderland. Through a looking glass, or even the shadowy wardrobe of a spooky Narnia. For a second full-length feature film, this is a brilliant and memorable outing.
The City of Lost Children (1995)
The Video
The City of Lost Children was shot on 35mm Eastman EXR 100T 5248 and EXR 200T 5293 film stock. It arrives in this new 4K remaster in a 1.85:1 HEVC 2160p (4K UHD) Dolby Vision encodement from Sony Pictures Classics. The color palette has always has a greenish tinge in much of this film and that remains here. There are also parts where there are more earth tones and a rusty look. Everything comes through superbly with extremely sharp film grain structure that adds a lot of texture to the imagery. Skin and objects have a palpable and three-dimensional appearance. The Dolby Vision's wide color gamut also applies lots of nuance and extension to the colors. Ron Perlman's hair or Judith Vittet's red dress, for example, have good vibrancy, as does the green water that makes lots of appearances. There is also good specular highlights, such as the sheen on the waves and the sparks in the machinery used.
The Audio
The City of Lost Children is supplied with a French DTS-HD Master Audio 2.0 Surround soundtrack as well as an English DTS-HD Master Audio 2.0 Surround dub. If your system is capable, it should automatically pick up the surround flag and you will hear the very atmospheric, matrixed surround track, which has lush sound in the surround channels, clear dialogue and a deep low end.
The Supplements
The box set contains a 24-page booklet, featuring an all-new essay from renowned film critic David Thomson about the history of Sony Pictures Classics, along with information about each of the included films and an introduction from SPC co-presidents Tom Bernard and Michael Barker.
Sony Pictures Classics includes ported over bonus features including two separate audio commentaries, both that feature the director Jean-Pierre Jeunet, one with Ron Perlman, and three bonus features, all upscaled, of 'making of' and interview content.
Audio Commentary by Director Jean-Pierre Jeunet and Actor Ron Perlman
Audio Commentary by Director Jean-Pierre Jeunet
"Making of" Featurette (1080p; DV; 00:27:13)
Les Archives de Jean-Pierre Jeunet (1080p; DV; 00:13:37)
Interview with Jean-Paul Gaultier (1080p; DV; 00:03:33)
The Final Assessment
This 4K Ultra HD release from Sony Pictures Classics is available only in the Sony Pictures Classics 30th Anniversary 4K box set in the U.S. (for now). The quality of this transfer alone bodes well for the rest of the box set given the stunning image quality and this is certainly worthy of the 'classics' label.
The City of Lost Children is available on 4K Ultra HD in the Sony Pictures Classics 30th Anniversary 30th Anniversary Box Set out November 22, 2022, from Sony Pictures Home Entertainment
---
Rating Certificate: R (for disturbing and grotesque images of violence and menace)
Studios & Distributors: Constellation | Lumière Pictures | Le Studio Canal+ | France 3 Cinéma | Centre national du cinéma et de l'image animée (CNC) | Cofimage 4 | Cofimage 5 | Studio Image Canal | Société des Producteurs de Cinéma et de Télévision (Procirep) | Elías Querejeta Producciones Cinematográficas | Tele München Fernseh Produktionsgesellschaft (TMG) | Eurimages | Club d'Investissement Média | MEDIA Programme of the European Union | Sony Pictures Classics | Sony Pictures Home Entertainment
Directors: Marc Caro | Jean-Pierre Jeunet
Written By: Gilles Adrien | Jean-Pierre Jeunet | Marc Caro | Guillaume Laurant (additional dialogue)
Run Time: 112 Mins.
Street Date: 22 November 2022
Aspect Ratio: 1.85:1
Video Format: HEVC 2160p (4K UHD)
HDR Format: Dolby Vision (HDR10 Compatible)
HDR10 Metadata:

MaxLL: 8247 nits
MaxFALL: 312 nits

Primary Audio: French DTS-HD MA 2.0 Surround
Secondary Audio: English DTS-HD MA 2.0 Surround
Subtitles: English | English SDH