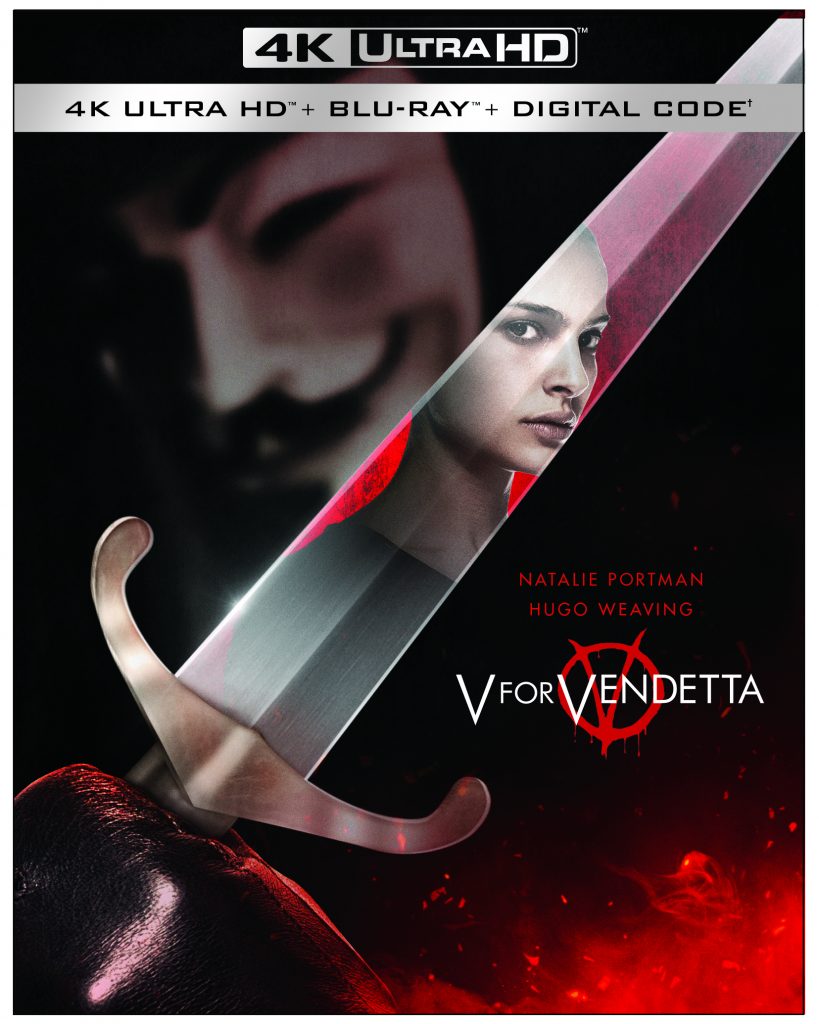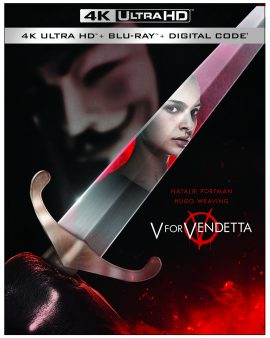 V for Vendetta is the 2005 dystopian sci-fi action film from director James McTeigue and a screenplay by the Wachowskis based on the graphic novel series by Alan Moore and David Lloyd.
The film is set in an alternative future where a Nordic Supremacist, neo-fascist totalitarian regime has taken over the United Kingdom. The world is in turmoil due to a second civil war in the United States and a pandemic called the "St. Mary's Virus" that has torn across Europe. The totalitarian regime in the UK has taken on a strict, right-wing bent and is anti-LGBTQ, anti-immigrant, anti-immigrant, The story follows an anarchist masked vigilante named V (Hugo Weaving) in a Guy Fawkes who is both articulate in speech and highly skilled in physical combat. V uses elaborate terrorist attacks to bring down the regime. On the way to carrying out his inaugural bombing, an elaborate demolition of the Old Bailey, accompanied by fireworks and Tchaikovsky's  "1812 Overture," V rescues the unassuming young woman Evey (Natalie Portman), an employee of state-run British Television Network, from members of the "Fingermen" secret police, while on her way to her boss' house after curfew. V takes her back to his secret lair where he slowly falls in love with her, but also convinces her to help him in his rouse to attack BTN and take over the airwaves, laying down the gauntlet for the fascist leader, encouraging the people to all gather outside the Houses of Parliament wearing his masks.
This film has obviously been released by Warner Bros. on 4K on Nov. 3 to tie-in to the election and the "Remember, remember the fifth of November" tagline. There are a lot of pertinent and apposite themes in this film to current events from political and social perspectives, not the least of which is the pandemic.
The Vendetta is that unlikely pairing of action and social commentary that works with ease, like the best of dystopian sci-fi such as 1984. Unlike the former, it avoids being dragged too far into the dismal and dire dystopia, instead opting for a more balanced, quick-paced actioner that is often livened by martial arts sequences, visual effects, and a witty repartee of the characters.
Natalie Portman is amazing as Evey in only her second film post her run in the Star Wars prequels, where her performances were terrible, but, so were everyone else's. Even though she shines, she is outshone by her masked co-star Hugo Weaving who uses elaborate movements and the inflections in hos voice to convey so much emotion we don't even need to see his face.
V for Vendetta still stands up a decade-and-a-half on from its initial release and makes for fascinating viewing in these trying times.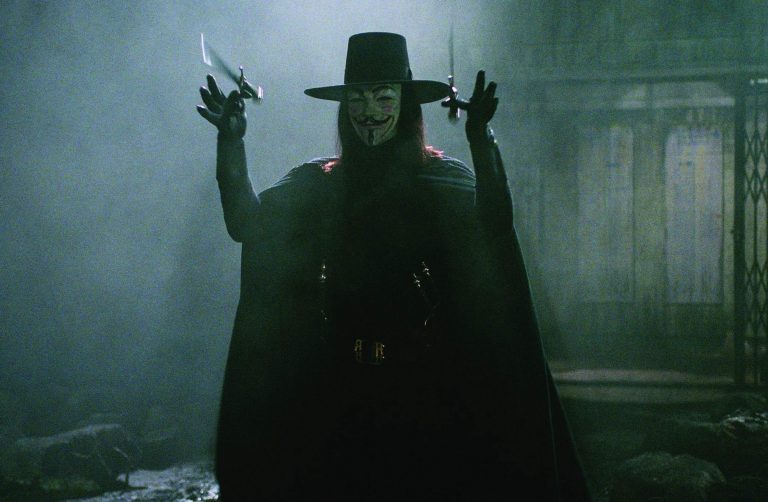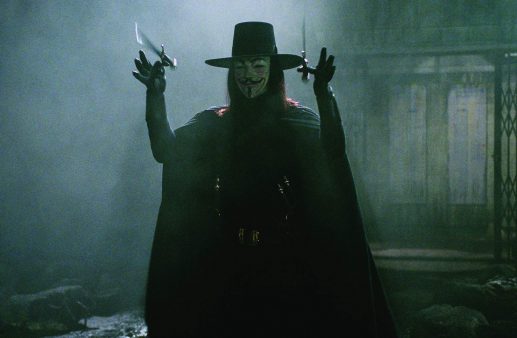 The Video
Warner has offered up a wonderful new transfer of V for Vendetta on 4K Ultra HD Blu-ray taken from a new 4K scan of the original 35mm camera negative. It appears here in a HEVC 2160p (4K) encodement with HDR10. The HDR10 was graded with a Max. Light Level of 4000 Nits, Min. Light Level of 0.0050 Nits, Max. Content Light Level of 2491 Nits and Max. Frame-average Light Level of 130 Nits.  The detail in this new restoration is incredible. In comparison to the Blu-ray, which is good, but to be fair, is an early Blu-ray release from 2008, the 4K disc looks a lot crisper, a little cleaner, and is certainly less compressed coming on a 100GB disc. The HDR10 is subtle most of the time. There's not a lot of 'pop' in the colors or the highlights given this film's desaturated and almost monochromatic tone at times, but where need be, the highlights do 'pop' nicely. The flames in explosions and fireworks, the computer screens at night all seem to have a very bright, three-dimensional look.
The Audio
V for Vendetta comes with an excellent new Dolby Atmos mix that has really good extension into the low end, which you can hear pretty early on in this film with the bombings set by V. There's good sense of expansiveness with the 1812 overture and movement of foley effects through the channels, and dialogue and clear.
The Supplements
Warner Bros. includes "over two hours of bonus content" with this release, sure, but it's mostly repackaged, previously released bonus content – including the entire Blu-ray Disc which doesn't seem to have been remastered or even reauthored at all.
Blu-ray & Movies Anywhere Digital Code
4K Ultra HD Disc: James McTeigue & Lana Wachowski in Conversation (1080p; 00:13:17)
4K Ultra HD Disc: Natalie Portman's Audition (1080p; 00:14:05)
4K Ultra HD Disc: V for Vendetta Unmasked (1080p; 00:23:28)
Blu-ray Disc: In-Movie Experience – Director's Notebook: Reimagining a Cult Classic for the 21st Century
Blu-ray Disc: Designing the Near Future (SD; 00:17:15)
Blu-ray Disc: Remember, Remember: Guy Fawkes and the Gunpowder Plot (SD; 00:10:17)
Blu-ray Disc: Freedom! Forever!: Making V for Vendetta
Blu-ray Disc: England Prevails: V for Vendetta and the New Wave in Comics
Blu-ray Disc: Additional Footage – Natalie Portman SNL Rap
Blu-ray Disc: Cat Power Montage Music Video
Blu-ray Disc: Theatrical Trailer & Soundtrack Album Info
The Final Assessment
Warm up the home theater system, because Warner Bros. has delivered yet another reference quality 4K release on home video in their ongoing issuance of catalogue releases on the format with V for Vendetta. The lack of a remastered Blu-ray being included is a bit disappointing, but not a deterrence.
V for Vendetta is out on 4K Ultra HD Combo Pack November 3, 2020 from Warner Bros.
---
The Creative Content: 4.0/5
The Video (Overall): 5/5
HDR Effect: 4.0/5
The Audio: 4.0/5
The Supplements: 3.0/5
Rating Certificate: R (for strong violence and some language)
Warner Bros. (presents) | Virtual Studios (in association with) | Silver Pictures | Anarchos Productions (in association with) | Warner Bros. (as Warner Bros. Productions Limited) | Studio Babelsberg (as Fünfte Babelsberg Film GmbH) | Medienboard Berlin-Brandenburg (with the assistance of) | DC Comics (Vertigo) | Warner Home Video
Director: James McTeigue
Written By:Lilly Wachowski (screenplay) (as The Wachowski Brothers) | Lana Wachowski (screenplay) (as The Wachowski Brothers) | David Lloyd (graphic novel art)
Run Time: 132 Mins.
Street Date: 3 November 2020
Aspect Ratio: 2.35:1
Video Format: HEVC 2160p
HDR Format: HDR10
Maximum Luminance: 4000 Nits.
Minimum Luminance: 0.0050 Nits.
Primary Audio: English Dolby Atmos
Secondary Audio: English Descriptive Audio | French (Quebecois & Parisian) DD | German DD | Italian DD | Spanish (Castilian & Latino) DD | Czech DD |Polish Lektor DD | Thai DD
Subtitles: English SDH | German SDH | Spanish (Castilian & Latino) | Italian SDH | Danish | Thai | Korean