Bowers & Wilkins Zeppelin Wireless Speaker System
A few years ago, I reviewed the Bowers & Wilkins Zeppelin Air Wireless Speaker Dock, a true breakthrough product that received music streamed from Apple AirPlay®-enabled devices such as iPhones, new generation iPods, and Macs or PCs. iPod Nanos or Classics required a connection to a front panel docking station. This compact system filled my listening room with huge sounds, belying its modest size, and led me to dub it "the boom box for the new millennium."
Time moves inexorably forward and the B&W design team never rests on its laurels. The Zeppelin Wireless is this company's latest entry in the increasingly crowded high-end "boom box" sweepstakes. Aptly named after its aviation forebear, this dirigible-shaped Zeppelin Wireless no longer sports the docking station but features many ways to get music streamed to its bank of speakers.
Getting airborne
As is its wont, Bowers & Wilkins supplies a "quick start" printout. Before getting started, I would highly recommend downloading and reading the full owner's manual available online B&W's support site. To connect the Zeppelin to your local network, you must first download the Bowers & Wilkins control app to your computer or portable device. Downloading the app actually required more time than it took to illuminate the steady green "go" light on the front panel! A small blue button on the right side of the B&W logo panel activates a Bluetooth connection that can accommodate up to eight devices. The Zeppelin Wireless can be accessed through the Ethernet or wirelessly (the way that I did it). Once done, you can connect your portable i-device, Android device or computer via AirPlay, Bluetooth or Spotify Connect™ (the latter requires a premium subscription). AirPlay and Bluetooth allow playback of music files in red book CD-quality (44k/16b) sound, regardless of their original resolution; Spotify Connect streams "high-quality," i.e. 320kbs, mp3s.
There is no remote control unit like the "egg" of the previous Zeppelin Air. The new Zeppelin's top panel has raised volume and play/pause control buttons but most users will let their streaming devices handle these functions.  The bottom rear of the Zeppelin has a USB port (for service only), an Ethernet port, a 3.5 mm mini-jack input for analog sources, and a reset button. If streaming modes are changed, say from AirPlay to Bluetooth, the new mode will be recognized and begin to play the source. The Bluetooth receiver will automatically shut off if no signal is present for five minutes. The entire speaker system shuts down if no music is present for twenty minutes and begins to show a dim red "sleep" light on the front.
Internally, this wireless speaker system has been completely redesigned, resulting in substantially improved performance over the older Zeppelin. B&W made the chassis more rigid to reduce any vibration effects from entirely new speakers whose technology concepts have trickled down from high-end drivers that have long established B&W's reputation as a leading loudspeaker company. Two double-domed 1" tweeters flank two 3.5" FST midrange drivers and a central 6" subwoofer.  FSTs or fixed suspension transducers are a Bowers & Wilkins innovation that uses a narrow ring of foamed polymer to support the outer edge of the speaker cone. This design enables quicker transients and smoother, more extended high-frequency response. The long-throw subwoofer has deeper bass response than its 5" predecessor. Accompanied by a new 192kHz/24-bit DSP unit, three audiophile-quality Class D amplifiers provide seemingly endless power for each of the drivers.
Up, up, and away
I placed the Zeppelin Wireless on my equipment rack, just above ear level and at a listening distance of 12 feet. The dynamic drivers received 50 hours of break-in before critical evaluation started. Initially, the highs seemed a touch compressed but over time, matters greatly improved; the bass response became deeper and tighter as well.
Many prospective users like myself  have extensive mp3 libraries, so it made sense to start with some of these lower-res selections. The Spice Girls (remember them?) recorded a multi-layer sexually explicit number "Get Down." The swirling background effects that underscore the SG's voices were well expressed and encouraged more listening to more mp3s.  Robbie Robertson's "Somewhere Down The Crazy River" showed how an atmospheric mp3 download can immerse the listeners in the various textures of this modern-day torch song. Delving into my Rhapsody archive, I selected the late Amy Winehouse's retro performance of "Our Day Will Come." Granted that this is a 128kbps mp3, when streamed from my iPhone 6 via AirPlay, the Winehouse voice and her smooth sidemen received excellent reproduction by the Zeppelin.
Moving on to higher resolution material, the Zeppelin Wireless was rewarded with Radka Toneff's haunting rendition of "The Moon Is A Harsh Mistress."  This is a vocal/piano track to die for and, when played at sufficient volume, Radka's unique voice and Steve Dobrogosz's piano were in my room in full 44.1kHz/16-bit glory. Another favorite FLAC (44.1kHz/16-bit) file is Esmeralda Spalding and Gretchen Parlato exchanging vocal lines on the Brazilian number "Inuitil paisagem" with Spalding's full bass and finger snaps supplying the background.  The clarity of the two voices and power of the bass was simply astonishing!
While not an "audiophile" recording per se, The Eagles' live version of "Hotel California" has those primal drumbeats during its intro and the Zeppelin uncovered not just palpable bass but the decay of each hit on the skins. Moving to much bigger sounds, Rachmaninoff's "Symphonic Dances" as rendered by Eiji Oue and the Minnesota Orchestra opens with throbbing low strings and humongous kettledrum thwacks. In this 176.4kHz/24-bit download, the soundstage was large and the extreme frequency range well covered, again creating the illusion that I was listening to a much larger speaker system.
Book my next flight on the Zeppelin
As impressed as I was with the original Zeppelin Air Wireless Speaker Dock, this newer non-dock version benefited greatly from both better electronics and drivers. Throughout my listening sessions, I had to refrain from pinching myself to be certain that all of this sound was still coming out of this small dirigible-shaped speaker system. When comparing the same musical selections streamed via AirPlay and Bluetooth, I consistently preferred the former, although I must admit that the distance between these two streaming modalities has considerably narrowed. As long as my sound sources were in the same room as the Zeppelin both Wi-Fi and Bluetooth transmissions were nearly flawless with very few dropouts (virtually none, once solid connections were established).
After an adequate break-in period, I found the B&W speaker array to give an honest account of the characteristics of each recording selected, sometimes brutally so. With good audio sources, vocals were warm and appealing, background details nicely presented, and the bass rich but not excessive. One could not really ask much more of any speakers, large, medium or in this case, small.
The Good
Excellent build quality
Room-filling sound from a small chassis
Well balanced across the audible frequency range
Can handle AirPlay, Bluetooth or Android-enabled devices and computer sources
The Bad
Playback limited to CD-quality
Pricey
No remote control
The Scorecard:
Design/Ergonomics:
[Rating:4/5]
Performance:
[Rating:4/5]
Value:
[Rating:3.5/5]
Overall:
[Rating:4/5]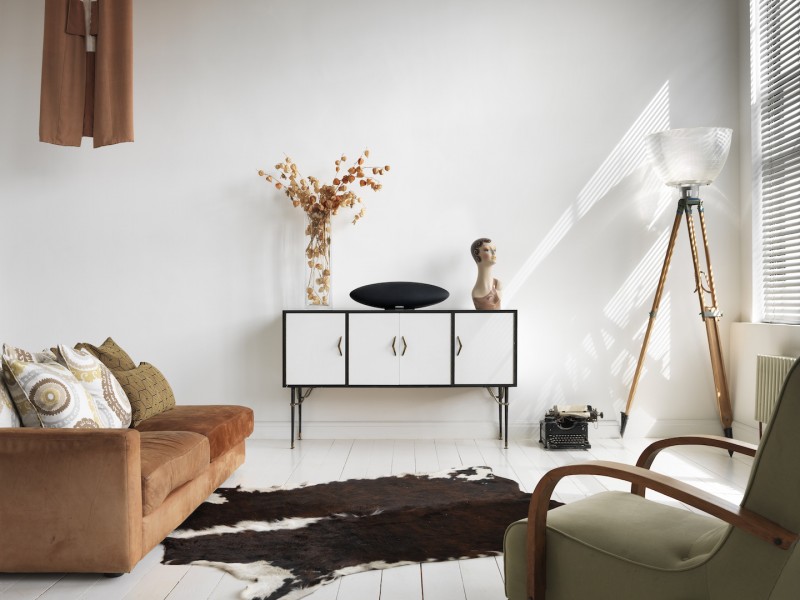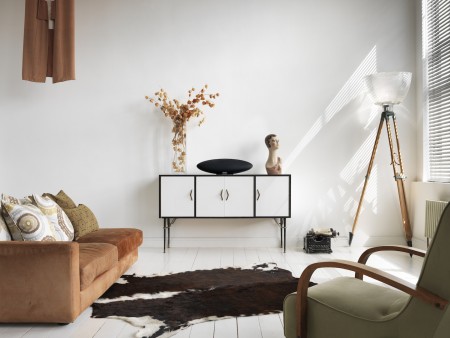 The Definitive Word
The Zeppelin Wireless system is the best-sounding wireless speaker system that I have yet heard in the Bowers & Wilkins or any other product line for that matter. For listeners with limited space or budgets and who listen mostly online or to digitally stored music files, the Zeppelin will definitely fill their bill. It does come in at $100 more than the previous version (that also had a docking station for older iPods) but there is much, much more than a C-note improvement in its sound. Looks like the B&W folks have themselves another winner!
Specifications
Technical features
Apple AirPlay® technology Bluetooth v4.1, Class 2
Spotify Connect
Digital Signal Processing (DSP) (192 kHz/24-bit)
Drive units
2 x 25 mm (1.0 in) double dome tweeter
2 x 90 mm (3.5 in) FST midrange
1 x 150 mm (6 in) subwoofer
Frequency response
44Hz to 28kHz
Amplifier power output
2 x 25W (tweeter)
2 x 25W (midrange)
1 x 50W (subwoofer)
Input voltage
100V-240V—50/60Hz
Power consumption
Below 1.50 Watts (Sleep)
Below 0.30 Watts (Standby)
Inputs
Network (RJ45 Ethernet or Wi-Fi)
Auxiliary-analogue (3.5 mm mini-jack)
USB-service only
Height x Width x Depth
188 mm x 660 mm x 183 mm
Weight
6.5 kg
AirPlay compatibility
Airplay works with iPhone, iPad, iPod touch with iOS 4.33 or later, Mac with OS X Mountain Lion or later, and PC with iTunes 10.2.2 or later
Bluetooth Codecs
aptX standard latency, AAC, SBC
More Information:
Bowers & Wilkins Zeppelin Wireless (SRP $699 USD)